Six street artists are ringing changes at Fendi's Roman headquarters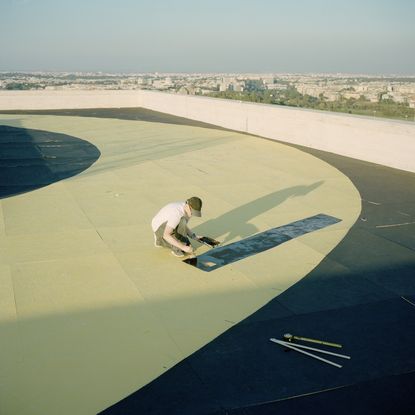 (Image credit: Alessandro Furchino Capria)
Graffiti's cultural position has long been a polarising topic – vandalism to some, a valid art movement to others. Fendi is clearly in the latter camp as street art forms the focus of The Ring of the Future, a circular artwork featuring the word 'Future' painted in six languages on the roof of the Italian fashion house's HQ in Rome.

'I see the rooftop as a blank canvas,' says Cristiana Monfardini, Fendi's vice president of communications and the project's mastermind. Working in collaboration with London-based agency Global Street Art, Fendi commissioned a sextet of street artists to add their own typographic style to the piece.

The artists come from the four corners of the globe: Cave, the London-based Iranian artist who mixes the Arabic and Farsi alphabets to create new typographic forms, and Seoul-based Korean Jodae, who mixes shamanism and oriental art in his intricate designs. English artist Gary Stranger creates bold and precise typographic pieces entirely by free-hand, and Chinese artist Roes, one of the founding members of the Smile Maker HK collective, draws from images of everyday life like farmyard animals and fast food.

Casper's specialisms span both logo and costume design, and in 2015, the Japanese artist created a 70m high mural in Osaka, while LA-based artist Hillel Smith works in Hebrew to add a spray-painted vibrancy to Jewish storytelling. 'He takes something old and reinterprets it with an unexpected aesthetic,' says Monfardini.
Street art made an early impression on Smith, when he used to cycle past the graffiti-covered Melrose Alley in West Hollywood. When he paints, he uses tape to control the spontaneous flow of the spray paint, and his colourful, geometric designs are inspired by Spider-Man comic strips, Ed Ruscha and René Magritte.

'My work is about making Hebrew global, fresh and exciting,' Smith says. 'This is an alphabet that is more than 2,500 years old. It has changed and developed. I love taking elements of other styles to make the alphabet part of the modern design conversation.'

Smith's manifesto reflects Fendi's bid to update its own aesthetic. The Ring of the Future is part of its F is For project, a digital platform launched last year with the intention of attracting a new generation of Fendi fans among millennials. It also celebrates a boundary-blind art. 'It reflects the spirit of international collaboration,' says Smith. 'The harmony of all the scripts is what makes it so powerful.'

As version of this article originally featured in the March 2018 issue of Wallpaper* (W*228)
INFORMATION
For more information, visit the F is for Fendi website (opens in new tab) and Instagram (opens in new tab), the Global Street Art website (opens in new tab) and the Hillel Smith website (opens in new tab)