Rokh S/S 2020 Paris Fashion Week Women's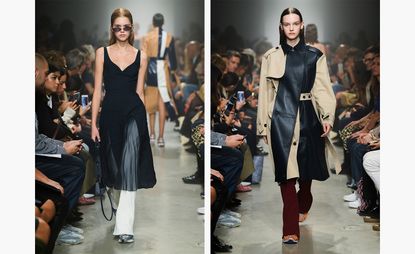 (Image credit: press)
Soundbite: 'We left Austin in July 1994. I was 10 years old. There were four of us piled in our white Lincoln town car, as my dad drove onto the interstate and toward the Texan border. We would spend three months on the road, crossing the country from New York to Yosemite, our family field trip, captured in film photographs and in the more fleeting images that still flicker through my mind.' Rok Hwang has been in a nostalgic mood for the last couple of seasons. After a striking first show six months ago, in which the Korean-born designer reflected on his Texan high school days, this time he turned to the cherished family memory of a road trip across the United States. It was an all-out celebration of Americana, yet the kind that women across the globe would be more than happy to appropriate.

Best in show: Among the memories that have shaped Rok's creative identity is that of his first time in New York, during that field trip, and of observing, from his car window, flocks of young women dressed in checkered suits, walking fast along the Manhattan sidewalks. Rokh's fanbase was first built mostly around ultra comfortable checkered suits with a kind of Céline spirit – the designer worked several years alongside Phoebe Philo, and this time he didn't disappoint. But other staples of modern American dressing were also present: polo shirts (fashioned into dressed draped around the waist), patchworked trench coats, sometimes complete with mountaneering backpack straps (again a childhood memory of his father clad in climbing gear 'although he didn't climb'), undersized deconstructed woolen jackets, held together by duffle buttons and ropes, and ivory lace shawls and hats. Simplicity worked best in the collection, such as a clean-cut twisted jersey top worn over a sheer skirt with black feather details. That's the kind of elevated basic Rokh's clients keep coming back to.

Finishing touches: Accessories particularly caught the eye of show guests this season: a new range of leather bags, hand-moulded in Spain, in shades of tan, black and ivory, translated the wearable spirit of the brand's ready to wear. Slender and complete with shoulder straps, they looked like potential best sellers. But the most eye-catching accessories were not the most wearable. Overblown cotton tote bags and skateboards ('I was never a cool kid in school, but I loved skate culture all the same', said Rok) gave the show a touch of Instagram-ability.