Dior S/S 2020 Paris Fashion Week Women's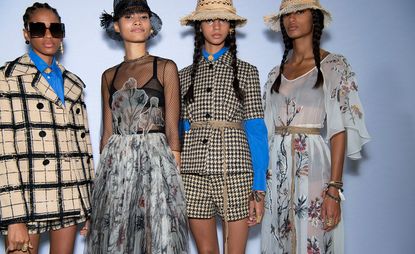 (Image credit: Jason Lloyd-Evans)
Scene setting: Guests arrived at the Hippodrome de Longchamp – a secluded area in the midst of the Bois de Boulogne – to find an organic wooden structure bearing only the letters Dior on it. Inside, bathed in dim lights, were 170 geometrically placed trees. A true garden - like the ones Christian Dior cherished - that aimed to go beyond the mere 'effet surprise' of an impressive luxury group brand show setting. This season, Dior partnered with Coloco, a landscaping atelier specialising in sustainable, urban gardens. The trees were of different species, a metaphor for inclusivity, and, after the show, will be planted in different areas of Paris. Just as the rest of the raw materials used in the show's structure, which will all be repurposed. In an era when many question the ecological soundness of fashion week, this is a sound start.

Moodboard: The garden – just as the collection – was an homage to Christian Dior's sister Catherine Dior. An extraordinary woman who joined the resistance in 1941, using her brother's rue Royale apartment to hold meetings before being deported by the Gestapo three years later, and surviving Ravensbrück. As interested as Christian in flowers and gardens, she was better known for being the 'Miss' in Miss Dior, the designer's first ever perfume, which he dedicated to her. Maria Grazia Chiuri reviving that lesser part of the Dior legacy felt very much in line with her recent reflections on feminism.

Best in show: Then there was the collection, inspired by the meaning of flowers and gardens today. Shades of beige and cream dominated the palette, almost as backgrounds for botanical explorations in the form of embroideries and prints. Dior staples including the Bar jacket were transformed into garden-friendly pieces which, combined with sloughy trousers, looked more comfortable than ever. But the guaranteed best sellers were the flou dresses, ranging from a beach-friendly multicolour ombré number to a series of couture-like embroidered tulle pieces with twisted straps – exactly the kind Christian Dior fans around the globe dream about.