Richard Malone S/S 2020 London Fashion Week Women's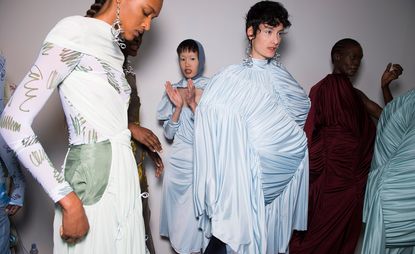 (Image credit: Jason Lloyd-Evans)
Mood board: Richard Malone's grandmother was a working class, commercial seamstress in a hospital in his native Ireland, and the Wexworth-born designer found Nellie's resistant creative output - painting stones and doodling birds - a long time inspiration. Her sketches featured as part of his 'Rinse, Repeat' exhibition last November in London. Malone's poignant and personal S/S 2020 offering centred on the grief he has felt since Nellie's death. His architectural, ruched and hyper-tailored pieces, rendered in oceanic greens and blues and deep reds, deadstock Taroni silks and fabric offcuts, were festooned with Nellie's whimsical illustrations of bluebirds, peacocks and cats, originally drawn on till receipts and scraps of paper, a symbol of the working class creativity pushing through onto London's creative stage.

Scene setting: Nellie's unerring personal creativity allowed Malone to consider the space the working class are in given in Britain's public arts scene today. In a collaboration with set designer Janina Pedan - who has worked with Alexander McQueen and Simone Rocha - the designer populated his show space with light wire sculptures, wrapped in gauzy, transparent fabric, and a symbol of both presence and invisibility.

Finishing touches: Malone paintstakingly crafted chunky silver jewellery resembling looped, spontaneous scribbles. The designer originally created the pieces as a distraction from his grief. Particularly poignant were a series of abstract squiggled silver hair pieces which seamlessly connected strands of hair in a long plait. Creativity acting as a form of essential connection.