Maison Margiela S/S 2019 Paris Fashion Week Women's
John Galliano's deconstructed take on Gen Z gender fluidity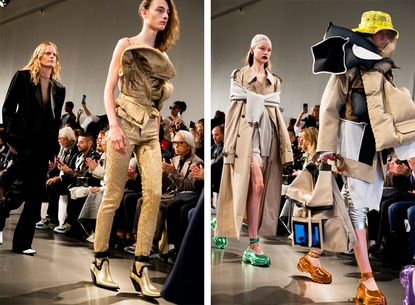 (Image credit: Jason Lloyd-Evans)
Scene setting: Huge video screens emblazoned Maison Margiela's stark white show set at the Grand Palais. On its screens, the faces of the avant-garde Belgian label's latest 'My Mutiny' fragrance, including Teddy Quinlivan, Hanne Gaby Odiele, Molly Blair and Sasha Lane. Women whose identities subvert the codes of modern beauty, modern rebels leading the charge against society's generic expectations of sexuality, gender and outward appearance. A fitting formula for a house renowned for its subversive approach to fashion, its deconstruction and surrealism – its founder a man who rebelled against the expectations of a fashion designer, invisible to the public and press. John Galliano, too, who took the creative helm of the house four years ago, a creator of flamboyant narratives, and extravagant identities. 'Being who you are is an act of defiance,' said Quinlivan through the television screens, the runway collection which followed a call to arms against the status quo.
Mood board: In the mid 1980s, Galliano – a recent St Martins graduate – was a regular at Leigh Bowery's Leicester Square club night Taboo. This was a club night where your outfit was everything, a chance to rock flamboyant, gender-fluid and outrageous designs, and dance all night alongside Boy George, Billy Idol and Stephen Jones. For S/S 2019, the designer looked to Gen Z's interpretation of this aesthetic. In the podcast released to accompany the show he speaks of the 'idea of being able to present gender in a more fluid way,' and it's liberation 'in the point of view of design.' This culminated in a men's and women's spring collection, which looked to 'carry out transformation through cutting.' Through his 'Décortiqué' technique he created 'cross-pollinated' garments, one piece with a memory of another, like a cape spliced with the silhouette of a summer dress, a jacket with a swimming costume hemline, a column gown with the cuttings of a negligée. Alongside these hybrid silhouettes came a heavy dose of nightclub drama, all ostrich feather embellishments, wet look fabrics and glittering jacquards, Galliano's take on 'nomadic glamour.'
Finishing touches: There was a futuristic flourish in the accessories, like plastic bucket hats and flying helmets, an iPhone clipped practically to the side of a boot, and a pair of headphones trailing from the ear. The sound of Galliano's take on gender and identity today, is one that we are listening to.