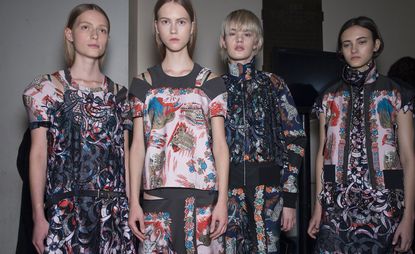 (Image credit: Jason Lloyd-Evans)
Mood board: As usual Sacai designer Chitose Abe sped off on a spring highway of high quality cutting as she seared together panels of paisleys, stripes, animalia and intricate laces into her signature clothing collages. So many designers try to do the mix-mash thing but so few have the hand to slice fabrics the way Abe does, or the eye to stitch it back up into new, intriguing silhouettes that burn with the cool of the street.

Best in show: The best segment of this show was the first half in which Abe played with an intricate, gigantic open-weave guipure lace in black and navy blue that she cross-hatched with exotic animal printed silks to create swinging wide trousers, sporty bomber jackets and dresses with slashed, uneven hems.

Finishing touches: Abe anchored all of the artistry in a shoe that looked like a hard core, thick heeled mini cowboy boot. It came either lashed up in suede laces and buckles or was vampless and covered in black oversized netting.
INFORMATION
Photography: Jason Lloyd-Evans