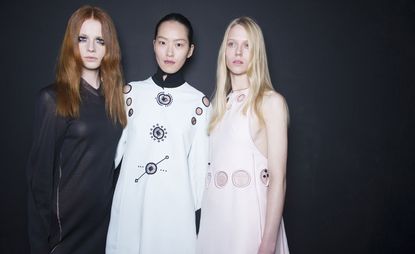 (Image credit: Jason Lloyd-Evans)
Mood board: This season Thomas Tait was preoccupied with negative space, which manifested in keyhole cut-outs and cracks in surfaces achieved via the collaging of industrial and organic fabrics. Cue PVC (or in this case real 'wipe clean leather') patched Japanese denim jeans and silk blouses accessorised with enough hardware jewellery to ground a space ship. Which all made sense in this extraterrestrial mix that also included space cadet boiler suits and robotic-looking, constellation embellishments that landed on spray and wipe leather.

Best in show: The relaxed pairing of Tait's studded crystal red patent mini skirt with a crisp white shirt and his similarly jewelled tank top teamed with a rolled cuffed pair of jeans.

Finishing touches: Tait always looks after his own jewellery and this season his heavy hardware was appropriately coined the 'Ball and Chain' necklace and earrings, which resonated perfectly as they clanked down the runway, audible above Frederic Sanchez's Hi-NRG soundtrack.
INFORMATION
Photography: Jason Lloyd-Evans