Junya Watanabe A/W 2019 Paris Fashion Week Women's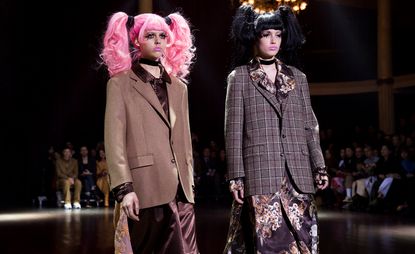 (Image credit: Jason Lloyd-Evans)
Mood board: Takeshita Street in the Harajuku district of Junya Watanabe's native Tokyo abounds in boutiques dedicated to Kawaii culture – the Japanese aesthetic that revels in cuteness and colour, Hello Kitty, Lolita fashion and the fetishisation of childhood. Yet, on Harajuku's streets a more sinister subculture is rising: Yami Kawaii imbues the saccharine elements of Kawaii style with more sinister overtones, related to the grotesque. Watanabe dosen't deal in clichés. The hybrid nature of his clothing takes classic shapes like a trenchcoat, an MA-1 bomber jacket, or a pretty floral smock and smartly splices and deconstructs them into something new. The Kawaii girls that walked on the catwalk in pairs for his A/W 2019 show, had an uneasy undertone, their hair in thick bunches, eyelashes long and clumpy, their lips offputtingly pink. The mashed up dresses/denim jackets/parkas/chunky knits they sported, changed shape according to the pose each model struck on the catwalk.

Best in show: A trenchcoat was spliced with a floral prairie dress, with trails of taffeta fabric. A white leather jacket was sewn into a delicate smock with pointillist blooms. Spliced, diced perfection.

Finishing touches: There was a toughness to Watanabe's Kawaii gang, and models sported chunky cowboy boots embellished with rows upon rows of pointed studs. What else could you need for walking the streets of Harajuku?