Givenchy A/W 2019 Paris Fashion Week Women's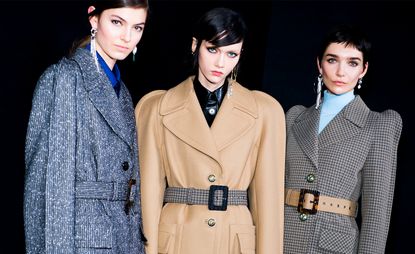 (Image credit: Jason Lloyd-Evans)
Scene setting: Ever since Clare Waight Keller took the reins of Givenchy, the Parisian brand's shows have been taking place at the very urban setting of the Palais de Justice. No more. Sunday's show rendezvous took place at the Jardin des Plantes, a botanical garden of sorts on the Rive Gauche with a little building inside... Which is where we all expected to be seating. This made the set design even more of a surprise: it was a long tent ('the longest I've ever seen', as per witness reports), completely blackened except for its roof, a transparent affair through which guests could see the Jardin's trimmed trees swaying wildly to the evening's stormy winds.
Moodboard: The theme? 'Winter's Eden', said the designer's show notes. And so it transpired. Clare Waight Keller has been asking herself the most primal question anyone in fashion can ever come up with: why do we dress ourselves? If you are somewhat religious, the answer might have something to do with Adam, Eve and the Garden of Eden. And voila, you've got this collection's inspiration. It was all there, from the flowers, trees and blooming colours of an exotic garden – vibrant pinks, grass greens, saturated sky blues, not to forget the hundreds of sparkling crystals mimicking dew drops – to the slithery temptation of the snake... in the shape of accessories.
Best in show: The execution, though, was far from literal. It's not for nothing that this has been dubbed the season of the suit: nothing in the way of slouchy ensembles or boho dresses here. Quite the opposite, it was all about structure. Strong shoulders, defined waistlines and power trousers in classic patterns were everywhere. As for dresses, they came in micro-pleated poly silk and thick crepe. Menswear, which was first shown in January in a very intimate show, made its appearance once again, all 1970's-infused flared trousers suits in unexpected colours including cherry and turquoise. Once again, those were among the audience's favourites, and heralded a truly new era of masculine elegance. In that way, Clare Waight Keller's answer to 'why do we dress ourselves' was crystal clear.