Margaret Howell A/W 2019 London Fashion Week Women's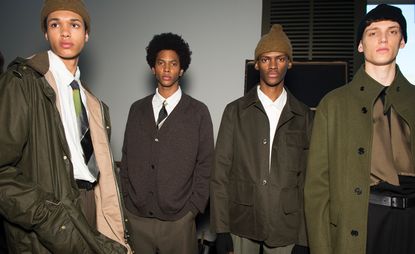 (Image credit: Jason Lloyd-Evans)
Mood board: There's a sense of comfort and steadfastness behind Howell's collections. London offers up eclectic and eccentric collections, alternative viewpoints and a vast array of ideas. Not always successfully. Howell opened her first Marylebone store in 1980, and for nearly forty years, her refined, workwear and utility-focused aesthetic, has become beloved the world over. The neutral wardrobe-lasting pieces she designed for autumn, in tans, rust, greys and khaki, serendipitously echoed her approach. For women, pleated skirts, paper bag waist trousers, herringbone jackets and Argyll knit sweaters with pops of pink. For men, sharp trench coats, loose denim, aviator jackets and Barbour anoraks.

Finishing touches: There were pieces here that bordered between town and country, between Howell's man and woman working in the week, then popping to a rural abode for gardening at the weekend. Relaxed tailoring and corduroy jackets, trousers with utilitarian turn-ups, delicate leaf print skirts, ties and flat caps.

Best in show: The faultlessness in Howell's clothes lies in their timelessness. A relaxed black men's suit with turn-ups will stand the test of trends as will women's snuggly coats, drill trousers and tailored jackets.