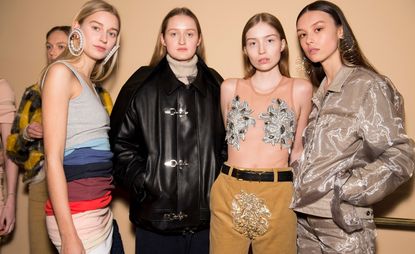 (Image credit: Jason Lloyd-Evans)
Mood board: A soundtrack convulsing with the sounds of different genres — from the opening Chariots of Fire to the closing heavy metal thrashing of Trapped in Hell by Gruesome, sublimely reflected the mindset of Glenn Martens, who subverts wearable classics, like denim, Argyll knits and jersey knitwear using surprising and hyperbolic proportion and styling. These are clothes at the forefront of Paris Fashion Week, which get fashion editor's excited – denim jackets and jeans reinterpreted in gauzy organza, fisherman's coats with caped shoulders, coats spliced together from strips of fake fur, leggings and vest tops made from layers of colourful ribbed jersey (an extension of the brand's layered jeans), and tube dresses with fringes of beaded evoking the dangling decoration of fusty lampshades. Imaginative, fun and intelligent – traits that have made Marten's brand one of the hottest tickets of PFW.

Best in show: Glenn Martens held his show within the art deco-designed Théâtre des Champs-Élysées, and a series of couture silhouettes evoked the gilded opulence of the setting. A lilac satin bustier was paired with a marabou trim flapper skirt, and a camel gown was crafted from drapes and knots of organza. The beauty in Y/Project's appeal is that there's more chance these ostentatious shapes will be worn to a house party than the opera.

Finishing touches: In recent seasons we've had Crocs on the catwalk (thanks to Christopher Kane and Balenciaga), and in January Martens bought another ugly classic back to life, collaborating with Ugg on a series of shearling lined boots which rose up to the top of the leg. Thigh skimming footwear has become a Y/Project classic. Marten's heeled boots often merge into his trouser designs, and his cut out boots, which spiral around the leg like a slinky have been an editorial favourite. For A/W 2018, the brand teamed up with Ugg once again, on bulky heeled versions of the boot, which folded to reveal their snugly lining.