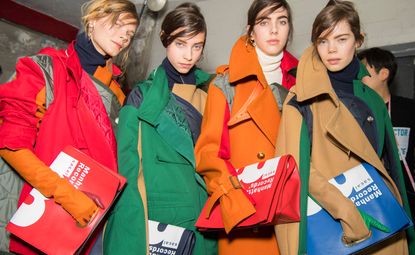 (Image credit: Jason Lloyd-Evans)
Scene setting: The Sacai fashion show at number 11, rue Béranger took place in what appeared to be an abandoned six-storey car park in the middle of Le Marais, but this 1970s-designed building used to be the headquarters of Libération, one of France's leading left-wing newspapers. It was only vacated three years ago, due to the damaging cocktail of spiralling rents and dwindling print sales. While the building remained unoccupied some newspaper vestiges still remained, including some colourful Noughties Macs. The first to trespass into this previously unchartered territory was Dries Van Noten who showed his menswear collection there a couple of seasons ago, and since then it has become more of a staple during Paris Fashion Week. And for a good reason: the light is bountiful and guests are treated to one of the most privileged views of Paris.

Best in show: Casual or formal? The Sacai woman just doesn't answer to that question. Instead, she combines both... at the same time. Designer Chitose Abe has always explored the idea of hybrid dressing, but this time it was ramped up to another level – blazers turned into denim jackets, coats into puffas and, of course, trousers into her signature pleated skirts. There was a prominent college theme, visible in horizontal burgundy and navy blue stripes and in handmade knits featuring intarsia coats of arms, the most exciting – and newest – pieces. Elsewhere, there were bicolour pieces (a recurring trend this season) in the shape of trenchcoats merged with dresses. It will interesting to see how Chitose Abe translates the most intricate pieces in the commercial collection.

Finishing touches: It appears zebra and leopard worn together are back in fashion... but only if decorating a pair of mismatched shoes: ankle boots, pumps, and chelsea booties in animal-printed calf hair accessorised most of the looks. But nothing caught our attention as much as the electric blue and orange rectangular bags sporting the logo of the legendary Shibuya vinyl store, Manhattan Records. The kind of delicious oddity which the fashion-savvy fans of Sacai will adore.