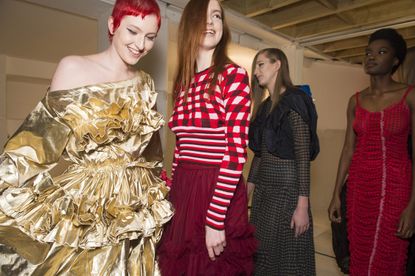 (Image credit: Jason Lloyd-Evans)
Scene setting: London-based Molly Goddard is known for her imaginative show sets, and this season was no exception. In the midst of a stark white room lined with benches and angular spotlights, stood two large cooking stations, baring bottles of red wine, working stoves and various bowls of delicious foodstuffs. As the sound of Snake Face's gutsy Throwing Muses played, models casually sauntered down the runway, before stopping at their kitchen of choice to pour themselves a glass of wine, nibble on a carrot or simply have a chat with one of their taffeta-clad comrades.
Mood board: 'Goddard's woman doesn't get FOMO. In fact, she isn't too sure what it stands for': teased the accompanying press notes. 'Through multiple silhouettes she remains the same – straight-forward, uninhibited and comfortably over-dressed.' This defiant clarion call echoed through the line-up of double-layered taffeta dresses, psychedelic tights and day-to-night skirts in brightly-coloured mesh or a warped gingham pattern that resembled one of Bridget Riley's op-art prints.
Best in show: Of all the fanciful dresses, there were two that stood out a mile. A gold drawstring dress with ruffled contours, and an outlandish neon orange mesh number, which seemingly floated around its wearer like a cloud. Not forgetting the diverse model casting by Alice Goddard (Molly's sister and long-term collaborator), which felt as empowering as the clothes themselves. It's little wonder Goddard achieved a generous round of applause.