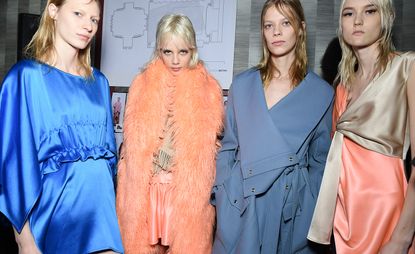 (Image credit: Jason Lloyd-Evans)
Scene setting: The New York Hilton Midtown seemed like an unusual choice for a fashion show venue, but upon entering its ballroom — apparently the largest in the city — it became clear why. The light blue walls lined with white mouldings, the crystal chandeliers, and the curved, gold railings were a complementary backdrop to the label's elegant collection.
Best in show: If there's one thing Sies Marjan creative-director Sander Lak knows, it's how to use colour. While there was no uniform colour palette throughout the show, that didn't matter. The easygoing, diaphanous looks still formed a cohesive collection. The loose, asymmetrical duck-egg blue trench and the opening look — a billowy mauve matte top and silk maxi skirt — were two of the best.
Finishing touches: Sporty metallic poppers lined a patterned shawl coat, while strategic twists accented a mint green cable knit sweater. Yarn fringe decorated a camel coat, bridging the gap between trench and poncho.