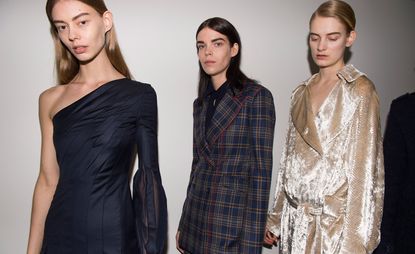 (Image credit: Jason Lloyd-Evans)
Mood board: Ava DuVernay's documentary 13th, which traces racial inequality in the United States, sparked Hearst to think about the civil rights activist Angela Davis. Hearst, who scooped the prestigious International Woolmark Prize in January, for a collection created from unusual merino wool fabrications, imagined an Angela Davis inspired wardrobe for her A/W 2017 runway debut, which exuded feminine confidence.
Scene setting: Hearst wanted to produce a show with as small of an environmental footprint as possible; so she borrowed pews and sourced chairs from her own home. She also placed cashmere pillows knitted from excess yarn made by Manos del Uruguay, a non-profit that pays craftswomen living wages, based in the country she was born.
Best in show: A trench coat with a block print pattern that skimmed the knees, added newness to the timeless classic. Other hits were the navy knit oversized cardigan coat with an open keyhole neck and epaulets, and a gold silk dress with a fringed cape.