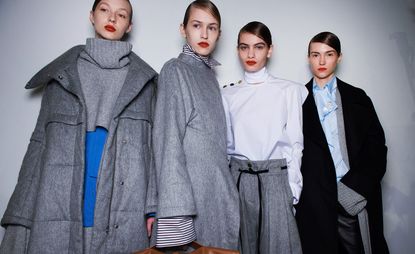 (Image credit: Jason Lloyd-Evans)
Mood board: Eudon Choi looked to the modernist work of architect and theorist Adolf Loos, whose essay Ornament and Crime advocated clean and smooth lines over surface embellishment. 'He really eliminated adornment, so we just focused on really beautiful materials and colours,' Choi explained of the collection, which included a collarless trench coat in black cashmere, a pea coat in vibrant orange leather and a draped navy satin dress with shoulder button detail.

Team work: Choi collaborated with the bag brand Decke on a collection of designs, three of which were available to buy immediately after the show. Featuring metal bracelet-handle details and architectural hardware, the bags were crafted in earthy leather tones. 'Loos loved using leather,' Choi explained. 'The colour palette was inspired by his designs.'

Finishing touches: Loos himself collected sterling-silver and leather goods, and this interest was echoed in Choi's use of curved metal buttons and rings, which featured on striped shirts, coats and the legs of trousers. Knitwear was also draped around the shoulders, adding a scarf-like layer to shirt and trouser combinations.