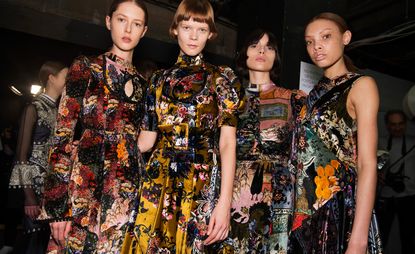 (Image credit: Jason Lloyd-Evans)
Mood board: The ribbon-tied book of reference pictures that Erdem Moralioglu provided members of his audience with for A/W 2017 featured a series of beautiful Ottoman references, from a colourful painting of a military scene, to a black and white portrait of a Turkish woman, wrapped in a headscarf and holding onto the reigns of a white stallion. The designer, who was raised in Canada by a Turkish father and English mother, enriched his A/W 2017 collection with Islamic art-inspired details in lustrous flocked velvet and embroidery, and a colour scheme featuring yellows, browns, pinks and blues.

Best in show: Moralioglu's signature silhouettes were all here, seen in flowing dresses with more of his traditional lace and macramé detailing, and overcoats in flocked velvet and embellished fur. A dress created from panels of black lace and mauve, gold and deep purple velvet, finished with beaded flowers, was both Eastern and Edwardian.

Finishing touches: Folkloric influences were noted in the clog-like platform shoes Moralioglu created, finished in luxurious floral fabrics with gem embellished buckles. Flatter styles, finished with criss-crossing ribbon, resembled traditional Turkish slippers.