Celine S/S 2020 Paris Fashion Week Men's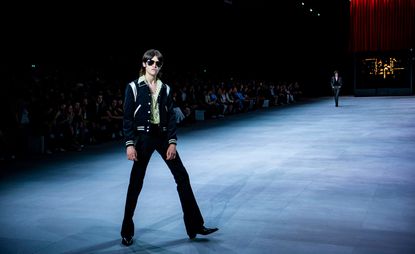 (Image credit: Jason Lloyd-Evans)
Mood board: Since he became ready-to-wear director of men's collections at Yves Saint Laurent in 1996, Slimane has been consistent in his precise, New Wave sensibilities. There is a rigour to his silhouettes that always look to the times when newly anointed 'teenagers' were in full swing – his style is at once relatable yet haughty. His focus has always been on a slimmer silhouette. The skinny tailoring that dominated menswear for the last decade is down to his styling. Although he often hides behind his work as a photographer and designer, in early interviews he'd often talk about his own slim frame; his boys are always lean. Like him, they are always in fitted trousers that hug a narrow waist. Arm holes are cut high. For his S/S 2020 collection, the look was urgent and gutsy. Cool and in control.

Scene setting: The show was held inside a purpose-built show space, placed in front of the Louis XIV commissioned Les Invalides building, with its proud gold dome, decorated with nearly 28lbs of gold leaf. In a large black box, the guests sat on roomy benches lining each side of a wide catwalk. The lights fell dark and the show began with the loud whoosh of a giant curtain crashing to the ground. A large red curtained box then hovered down the space. Inside, a kinetic sculpture of lights surrounded a model on a high stool, wearing a three-piece crystal encrusted suit. Slimane knows how to design an entrance. The models walked to Brooklyn art rock collective Bodega's specially recorded post-post-punk soundtrack.

Team work: In the run up to the show, the brand shared a series of text-based works by the American artist David Kramer on its Instagram. Witty millennial asides were layered over colourful, cheery paintings – the tone was wry and wily, including sayings: 'YESTERDAY WAS BETTER' and '…THERE IS NO IRONY HERE'. Slimane is in control of his legacy. When he joined the house last year, his boyish, retro-modern style cut through the cerebral musings of his predecessor like a sharp knife. His glam-rock-pomp sits away from the puritan modesty taking over fashion. Kramer's acidic aphorisms ('I have nostalgia for things I probably have never known') were writ large onto the side of woven raffia bags and on the front of skinny t-shirts. Artists Zach Bruder, André Butzer, Darby Milbrath and Carlos Valencia also featured in the collection. In their flared pants, narrow fitted shoulders and canvas sneakers, the models channelled a collective aloofness. The kind that Slimane does so well.
London based writer Dal Chodha is editor-in-chief of Archivist Addendum — a publishing project that explores the gap between fashion editorial and academe. He writes for various international titles and journals on fashion, art and culture and is a contributing editor at Wallpaper*. Chodha has been working in academic institutions for more than a decade and is Stage 1 Leader of the BA Fashion Communication and Promotion course at Central Saint Martins. In 2020 he published his first book SHOW NOTES, an original hybrid of journalism, poetry and provocation.