Virtual exhibition celebrates artist Steven Campbell's lifelong admiration for Comme des Garçons
Exploring the influence of fashion on Steven Campbell's work, 'Dressing Above Your Station' features 3D renders of archival Comme des Garçons garments – originally traded by the brand in the 1980s for one of his artworks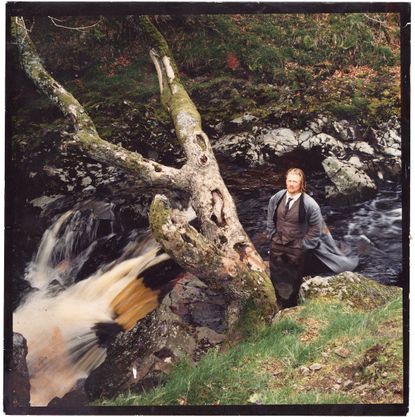 (Image credit: Courtesy of Condé Nast)
A new virtual show, created in collaboration between Panel, Tramway and ISO Design, explores the life of Scottish artist Steven Campbell (1953 – 2007). Titled 'Dressing Above Your Station', the exhibition traces a link between Campbell's work – which spanned set design, performance, photography and, most famously, painting – and fashion, looking towards the artist's own personal wardrobe to interrogate how clothing influenced his imagery, which often featured depictions of flamboyantly dressed men.
In particular, it tells the story of a trade Campbell made with Comme des Garçons, exchanging one of his own artworks for a collection of pieces designed by Rei Kawakubo in the 1980s. The exchange took place in New York, where he had travelled with his wife Carol to work, and would see the artist become a lifelong fan, wearing Kawakubo's designs while working in his studio, or hiking in the Scottish countryside. Some of these garments now feature in this new exhibition, their digitally rendered forms hanging alongside Campbell's artworks.
'The approach we have taken allows the viewer to learn about the history of Comme des Garçons in New York City, the relationship between fashion retail and the art market in downtown New York at that time, and the ways in which they influenced and interplayed with each other,' says Beca Lipscombe, one of the exhibition's curators, who is also the co-founder of Scotland-based label Atelier EB. The other curator is Mairi MacKenzie; both she and Lipscombe bridge art and fashion, with links to Fashion & Textiles at Glasgow School of Art, as a research fellow and former lecturer respectively.
Accessed via a purpose-built virtual space, the exhibition harnesses technology to create a show that is richer and more widely viewable than a traditional bricks and mortar experience (for those in Glasgow, a tablet in Tramway gallery will also provide access to the show). Exhibition design firm ISO – expert in 'hybrid experiences', merging the digital and physical – has built a full-scale digital version of the show, using a technique called photogrammetry (the process of creating digital 3D models of physical objects from a series of photographs). 'We took about 300 to 500 high-resolution still images on a DSLR camera per item of clothing,' ISO's Damien Smith explains. 'Then specialist photogrammetry software reconstructs a 3D mesh of the physical garment, calculating its physical form by comparing all the different photographs and angles of the images. It then re-projects a composite image back onto the mesh creating a high-resolution object.' Finally, a few colour corrections and clean-ups are made to the 3D models.
'This technique allows the online viewer to examine each item in detail, and imagine how the garment might appear in real life. Arguably, this digital view gives more detailed and intimate access to the clothing on display than visitors to exhibitions of fashion in traditional museums are ordinarily granted,' says MacKenzie.
In light of the recent uptick of NFTs and the acceptance of digital wizardry in the art and fashion space, the potential of this type of augmentation to art shows is notable. 'The Comme garments are now 3D objects and could be used like any other digital asset in film and animation, games, VR, AR or online virtual worlds. The great potential of this tech lies not just in replicating the in-person exhibition and making it more accessible but in its ability to engage audiences in completely different ways by incorporating interactive or augmented content such as 3D audio, video, and different language versions, or being optimised for different audience needs,' says Smith.
The exterior of the Tramway gallery will feature a projected image of the New York Comme des Garçons shopfront in the 1980s, and a fly poster campaign will roll out across the city of Glasgow, showing posters of Campbell's work.
INFORMATION
'Dressing Above Your Station' runs from 31 March to until 26 June 2022.
Tilly is a British writer, editor and digital consultant based in New York, covering luxury fashion, jewellery, design, culture, art, travel, wellness and more. An alumna of Central Saint Martins, she is Contributing Editor for Wallpaper* and has interviewed a cross section of design legends including Sir David Adjaye, Samuel Ross, Pamela Shamshiri and Piet Oudolf for the magazine.