Dover Street Market Ginza, Tokyo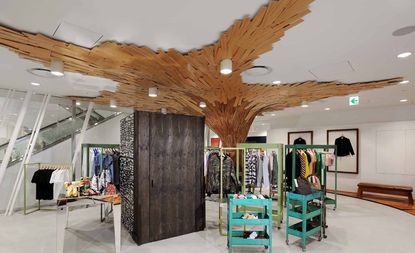 (Image credit: press)
We knew it was only a matter of time, but we never expected to wait this long. An epic eight years since transforming London's avant-garde fashion landscape with anti-department store Dover Street Market, founder Rei Kawakubo of Comme des Garçons (opens in new tab)has finally imported the concept to her hometown of Tokyo. Six storeys of glass and steel prop up more than 60 fashion labels in a former office building in upmarket Ginza.

Unsurprisingly for this most hands-on of designers, Kawakubo took on the transformation herself, adding a monochrome pillar motif to the framework and carving out intriguing whitewashed niches for her fashion tenants. Her own labels, the entire stable of Comme lines, including Beatles, Homme and Pocket Comme des Garcons, get a variety of custom displays: giant metal spirals and arches and imaginative wood vitrines that envelop the merchandise.

Elsewhere, Kawakubo has given her fashion collaborators – from Alexanders Wang (opens in new tab) and McQueen (opens in new tab) to Celine (opens in new tab)and YSL (opens in new tab) - full artistic freedom. Japanese brand Visvim hired British set designer Andy Hillman to imagine its space with a patchwork wall mural and a giant fallen rose. Cultish New York menswear designer Adam Kimmel (opens in new tab), charged with his first-ever standalone concession, commissioned a series of neon canvases by artist Dan Attoe. Streetwear brand A Bathing Ape (opens in new tab) went with Tokyo interiors mavericks Wonderwall (opens in new tab).

Considerably larger than the London location at 1,300 sq m, DSM Ginza is what its author describes as 'beautiful chaos'. Some long-loved London-born themes are reimagined Ginza style, like the changing-room 'hut', interpreted here in corrugated metal and wood, its primary-colour paint seeming to fade and rust. As in London, no distinction is made between luxury and streetwear brands – it all collides in delicious anarchy, much as it would on a frantic Ginza street.

Kawakubo treats the space like a multi-tiered sculpture garden, curating each floor with works by Coudamy Design (opens in new tab) from France and Vancouver's Patkau Architects (opens in new tab). Fashion designers with an itch to scratch get a dedicated event space on the ground floor to toy with. Vuitton (opens in new tab)menswear designer Kim Jones, along with sculptor Alistair Mackie (opens in new tab), took up the inaugural task and directed a Masai-themed scene, featuring a life-sized plaster elephant by Stephanie Quayle and Vuitton's Africa-inspired Spring/Summer 2012 collection.

The building's winning feature, however, is a recurring installation by sculptor Kohei Nawa (opens in new tab) of Kyoto. Kawakubo, eager to obscure the 'intrusive' escalator bays on each floor, commissioned Nawa's wall of giant spindles. They cut across the thrust of each escalator like arrows, directing energy up through the building. Not surpringly, Nawa has called it 'Pulse'.
ADDRESS
Dover Street Market Ginza
Comme des Garçon
Ginza Komatsu West
6-9-5, Ginza
Chuo-ku, Tokyo
104-0061, Japan
VIEW GOOGLE MAPS (opens in new tab)