California to Puglia, Cruise 2023's globe-trotting runway shows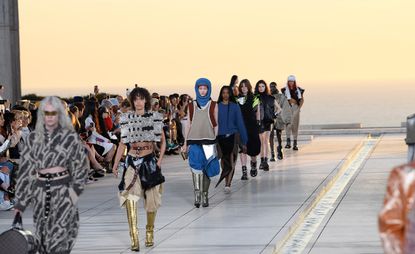 (Image credit: press)
A new season of Cruise shows – far-flung runway shows which take place in some of the world's most breathtaking locales – has begun, returning in force after a two-year hiatus. From a Monaco beachfront to a 13th-century castle in Puglia, this globe-trotting report takes you around the world for the most extravagant fashion presentations of the year.
The best shows of Cruise 2023
Chanel, Monaco
Located on Avenue Princesse Grace – named for Monaco's most famous royal export – hotel Monte-Carlo Beach has long provided a playground for the rich and famous, the kind of jet-set clients for which the Cruise collections have unique appeal. Chanel creative director Virginie Viard chose the hotel's beachside promenade as the runway for the house's Cruise return, as guests watched from cabanas along the shoreline. Viard's collection mined the principality's glamorous history with a playful collection that referenced Formula 1 (all-in-ones, Chanel-branded helmets, checkerboard prints), casinos (handbags shaped like miniature slot machines, gaming-chip earrings) and photographer Helmut Newton's famed Monaco images of swimsuit-clad women beachside. The late Karl Lagerfeld, Viard's forebear at the house, was not entirely absent from proceedings: the vast Villa La Vigie, his beloved residence in the city, could be seen in the distance as the show went on below, later providing the location for a lavish after-party.
Louis Vuitton, San Diego, USA
Nicolas Ghesquière has long backdropped his Cruise collections for Louis Vuitton with jewels of modernist architecture, from John Lautner's Bob Hope Estate in Palm Springs, California, to Oscar Niemeyer's saucer-like Museu de Arte Contemporânea de Niterói, which looks out over Rio de Janeiro's Guanabara Bay. For Cruise 2023, attendees were jetted out to the Californian city of San Diego for a show that took place at the Salk Institute, a scientific research centre built in 1960. Founder Jonas Salk reportedly asked architect Louis Kahn for a 'facility worthy of a visit by Picasso'; his response, a grand travertine thoroughfare leading towards the ocean with two angular mirror-image buildings in concrete on either side, through which a perfect Californian sunset can be viewed. It was at this hour that Ghesquière chose to hold his show, which swayed in typical time-warping style between vast body-draping gowns like those worn by ancient desert dwellers – 'goddesses', the designer offered – and sleek riffs on sportswear (the prints referenced colourful graphics on jet skis). Other elements made use of the location's unique light, with high-shine fabrics in gold and silver, metal studs and rivets, and glimmering strands of tinsel. 'I wanted the clothes to be like reflections, a point of contact between light and people,' he said.
Gucci, Puglia, Italy
Alessandro Michele has long been drawn to the mystical; symbols of the zodiac, ancient mythology, magic and metamorphosis have been referenced in various forms across his idiosyncratic collections. For his latest, Michele travelled to the southern Italian region of Puglia, hosting the show at the historic 13th-century Castel del Monte, unique for its octagonal interior courtyard and the repeated eight-sided symbolism in the building's design (the reasons for this remain a mystery; some have argued it was a site of mystical spiritual retreat, no doubt appealing to Michele's sensibilities). The collection itself, titled 'Cosmogonie', drew on the legacy of a more contemporary thinker: German philosopher Walter Benjamin. A deep-minded treatise from the designer that accompanied the show talked about Benjamin's conception of 'constellation thinking', his ability to forge links between disparate lines of thought. 'It's not that what is past casts a light on what is present, or what is present its light on what is past; rather, image is that wherein what has been comes together in a flash with the now to form a constellation,' said Benjamin, quoted by Michele. This idea of constellations ran throughout a collection that grandly linked the medieval with the modern, showcasing the designer's own ability to connect a chorus of inspirations traversing time and space. To finish, a moment of astral projection: images of constellations of stars were illuminated onto the ancient castle's walls.
Dior Men, Los Angeles, United States
Kim Jones selected the Los Angeles neighbourhood of Venice Beach to present his Spring 2023 menswear collection for Dior, a choice which reflected the partnership at its centre: a joint collection with Eli Russell Linnetz, the American designer behind buzzy Los Angeles label ERL, who calls the oceanside locale home. Linnetz is known for his playful riffs on Californian surf- and skatewear, which have seen him nominated for this year's LVMH Prize; this collection, which ran with the hashtag #DiorERL, continues a blockbuster year for the rising designer. Taking place on Windward Avenue – the famed thoroughfare over which 'Venice Beach' is strung in lights – the capsule collection united ERL's slouchy Americana-inspired silhouettes with the intricacies and precision of the Dior atelier (a marl-grey hoodie was stitched with a wave of silver paillettes and pearls, for example, or hefty skater shoes quilted to evoke Dior's famed cannage motif). The spirit of the collection was encapsulated in a slogan which ran throughout: 'Californian Couture', a nod to this coming together of two distinct worlds.
Balenciaga, New York, USA
The trading floor of the New York City Stock Exchange provided the backdrop for Balenciaga's Spring 2023 collection, as gimp-masked models – faces and bodies near-entirely obscured with latex all-in-ones – stalked between screens which flickered with market updates and the logos of big-corp America. Beginning with the ring of the trading-floor bell, the collection propositioned Demna's vision for the season in three parts: eveningwear ('extra formal' wide-cut tuxedos, silk trench coats, black body-conscious dresses), garde-robe (a new line of 'wardrobe staples in elevated cuts, sharp finishes, and luxe materials') and finally, revealed for the first time, a collaboration with Adidas. The latter provided the show's most buzzed-about moment, comprising items which mashed up Balenciaga silhouettes with the Adidas trefoil logo and signature 'three stripe' motif across supersized sweat suits, bomber jackets, holdalls and handbags. The designer said the collection was one of 'urgency'; at its end, the room's screens flickered, glitched and faded to black.
Jack Moss is the Fashion Features Editor at Wallpaper*. Having previously held roles at 10, 10 Men and AnOther magazines, he joined the team in 2022. His work has a particular focus on the moments where fashion and style intersect with other creative disciplines – among them art and design – as well as championing a new generation of international talent and profiling the industry's leading figures and brands.