Chanel conquers The Island in Dubai for the house's latest Cruise collection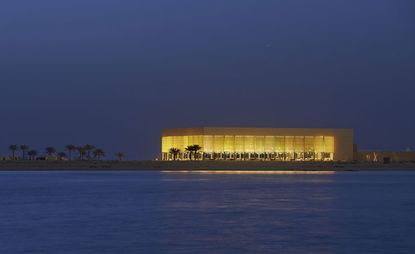 (Image credit: Oliver Saillant)
If we build it, they will come... It's a common business supposition that quite nicely applies to Dubai: the Middle Eastern city that rose out of the desert a mere 30 years ago, and currently boasts the world's tallest building and busiest airport. It's a grandstanding manifesto that also sits rather well with Chanel's latest resort export, which cruised into the UAE this week for a show appropriately themed from 'the Orient to the Occident'.
While previous seasons have seen creative director Karl Lagerfeld transport the world's fashion coterie to his preferred summer vacation spot of Saint Tropez, seaside Antibes, or a sub-tropical fling in Singapore, come Cruise 2014-2015 the designer went a little further than taking over a local landmark. He inhabited an island, or The Island, to be more specific, offering a billionaire's view back over Dubai's sparkling, skyscraper-filled skyline.
For one night only, Chanel transplanted running water, electricity, shelter, palm trees and some 300 of the world's international fashion press to a reclaimed plot of sand, surrounded by turquoise water. The result was part engineering feat, part show spectacular. Not that Lagerfeld has ever been short of a grand idea (who can forget Edinburgh's Linlithgow Palace or the giant iceberg trucked in from Sweden?), but this one was 'settled' in a mere six weeks.
Arriving in traditional wooden boats from the mainland, guests were first ushered through a path of palm trees and flickering torches to pillow-laden Bedouin tents, complete with Hookah pipes. The inevitable search for air-con soon led them to the main show pavilion, decorated inside and out with traditional Mashrabiya carved wooden panels, which - on closer inspection - fittingly etched out the brand's iconic double C logo. The majlis-style lounge space offered guests the comfort of either a springy cushion or sunken seat, as suspended lantern lights illuminated them from above.
On the salon-style catwalk, this excursion was a similarly contemporary affair, showcasing Lagerfeld's vision for a modern city and Chanel's global nomads, rather than a folklorique history lesson. He kept the mood light - both through breezy fabrications and a little Lagerfeld wit (A/W 2014's chain shopping basket was turned into a quilted jerrican for Cruise), as the show's big name models sported wild manes crowned with crescent moons.
Proportionally speaking, the collection was dominated by all matter of tunic tops, blousing harem pants and 12th century tile prints that were woven into transparent trousers or printed onto billowing dresses. Elegant Aladdin slippers and an exotic floral print that bloomed under architecturally latticed dresses completed the Arabian Nights dream sequence.
And for the finale? The show closed with a guest appearance by Hudson Kroenig, the toddler of Lagerfeld's main muse Brad Kroenig, who's fast becoming a Chanel catwalk regular. This was after all a family affair, with many of Chanel's impeccably dressed clientele attending with multiple relatives from their extended families. European designer trunk shows are common practice in the Middle East, however they are usually presented behind closed doors, so this show presented a very different message to the Sheiks and Sheikas who filled Chanel's temporary residence.
Indeed, leaving a lasting impression on a city that grows multiple floors in a single day is a tough task, but Chanel certainly came and conquered – even if all that remains of its grandiose desert mirage is now a pristine mound of sand.