Brioni Moleskine notebooks by Carlo Stanga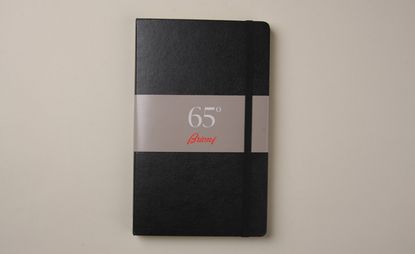 (Image credit: Carlo Stanga)
It's been a big year for Brioni. The fashion house has marked its 65th year by collaborating with us on our 'Wallpaper* Handmade... in Italy' exhibition, opening several new stores and - of course - throwing a large party. And now it is celebrating the milestone with a commemorative Moleskine notebook, which it's giving to friends of the brand, illustrated by the whimsical hand of artist, Carlo Stanga.
Eschewing fashion's customary glossy images, Stanga has created a series of playful and informal vignettes depicting the tailoring brand's history and identity. On one page, a team of tiny characters spill from the pockets of a giant suit jacket as they carry out its finishing touches. And on another, there are a series of Brioni-clad Oscars, with a caption that reads: 'Brioni conquers Hollywood.'
'We were attracted to Carlo's work by his fresh and modern stroke,' says Brioni. The brand has a large archive of illustrations. From its inception in 1945, up until the 1970s, it collaborated with artist, Luigi Tarquini. 'We feel that illustration is a warmer art form than photography,' the fashion house explains.
Next up for Brioni is the opening of its new stores in China and Düsseldorf, plus September will see its first fashion show with Alessandro Dell'Acqua at the creative team's helm.