Maier's 'maison': Bottega Veneta's Beverly Hills hub gets a Mediterranean makeover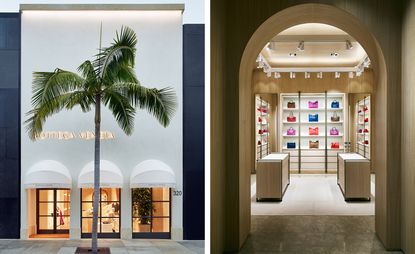 (Image credit: Bottega Veneta)
Bottega Veneta (opens in new tab)'s previous boutique in Beverly Hills was relatively run-of-the-mill. The displays were always quite pleasant, but it didn't really have a distinct personality deserving of the uniquely positioned brand, known for its logo-free understated brilliance and its 'intrecciato' leather weaving. That all changed this week, when the 50-year-old fashion label rebooted its Rodeo Drive presence with a 'Maison'-style location near its previous shop.

The new shop, located between Dolce & Gabbana and Valentino (opens in new tab), looks crisper, even from the outside, where a lone palm tree casts a shadow over three white awnings. Inside, the Maison is distinctly 'Mediterranean Revival', with arched windows and a spiralling staircase to the second floor. It's the second location done in the Maison style – the first is near the brand's headquarters in Milan and a third location will open in New York in 2017.

The Maison has more white than an art gallery. With plaster walls, white marble, unpolished Piscina stone floors and a bleached oak ceiling, it's a blank slate within which to show Bottega Veneta's various wares: colourful luggage, fine crystal jewellery, watches, sunglasses and, of course, bags. Sitting front and centre, in a back room filled with luxurious handbags, is an LA exclusive launch: the 'Beverly '71/'16' bag, the name referencing the year it was originally made, and available in crocodile, cervo, and intrecciato nappa leather.

Friends of Bottega Veneta crowded into the new space for tray pass treats and champagne to mark the opening; guests included Maggie Gyllenhaal, January Jones, Kate Beckinsale and artist Alex Prager, who photographed a campaign for the brand in 2011 (and whose dress bore the mountaineering chic of the spring 2016 collection).

'I've been coming to LA for 40 years,' Bottega Veneta creative director Tomas Maier explained. 'It's not based on anyone inparticular's house, but I've studied the Mediterranean Revival of the 1980s in California for years.'

Maier, who grew up in a family of architects, has grown Bottega Veneta exponentially since being hired by Tom Ford in 2001. The brand has gone from fashion doldrums to nearly $2 billion dollars in sales under the tutelage of Maier, not to mention rave reviews for the quality of its clothing and lifestyle objects, including a Wallpaper* Design Award (opens in new tab) for a library table in 2007.

Bottega Veneta seems poised to grow the company even further though a strategy of expanding its American properties – in anticipation of grabbing a part of a growing American luxury market – which goes to show that beyond the coveted designs, the company is savvy too. In a year of notable birthdays for Bottega Veneta – the 15th year under Maier's direction and the 50th anniversary of the brand – the name stands to shine.
INFORMATION
For more information, visit the Bottega Veneta website (opens in new tab)
Photography courtesy Bottega Veneta
ADDRESS
Bottega Veneta
457 N Rodeo Drive
Beverly Hills, CA 90210
View Google Maps (opens in new tab)