BOFFO Building Fashion pop-up store, New York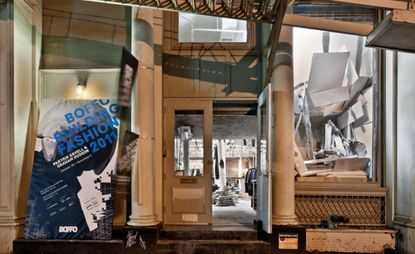 (Image credit: Evan Joseph for BOFFO)
What might look like a typical demolition site on Downtown Manhattan's Walker Street is actually a carefully considered pop-up shop designed by London-based artist and architect Graham Hudson, in collaboration with non-profit arts and culture organisation BOFFO and one of fashion's exciting new names, Patrik Ervell
If it weren't for the signage out front, it would be easy to walk by this BOFFO Building Fashion project and assume that it's just another space under renovation in the slowly transitioning neighbourhood of downtown Manhattan. But what might look like a typical demolition site is actually a carefully considered pop-up-shop designed by London-based artist and architect Graham Hudson (opens in new tab), in collaboration with non-profit arts and culture organisation BOFFO (opens in new tab) and one of fashion's exciting new names, Patrik Ervell (opens in new tab).
It's the latest project in the ongoing 'Building Fashion' series, which brings together an exciting roster of emerging fashion designers and architects to create dynamic temporary retail environments. A new space launches every three weeks with the help of sponsors MAC Cosmetics (opens in new tab), Focus Lighting (opens in new tab), Architectural Systems (opens in new tab), and the Council of Fashion Designers of America (opens in new tab). Supima (opens in new tab) cotton are also supporters of the program, which has worked to create exclusive merchandise with each of the program's designers - Ervell created a limited edition ski-mask available exclusively at the boutique.
Born in Sweden and raised in California, Ervell creates elegant, beautifully constructed pieces that stand in contrast to Hudson's trademark rubble and ruin installations. It's a sophisticated juxtaposition here, however. The range of construction materials, including everything from rebar and cinder blocks to planks of used wood flooring - all reclaimed from nearby renovation projects and dumpsters - is styled with the same precision Ervell brings to his collection. Even the strips of duct tape on the temporary floor are perfectly aligned.
Glass doors (their chrome handles still attached) laid across piles of broken concrete blocks create a display platform in the middle of the space, the stacks of plush sweaters on top marking another example of how trash and treasure work together beautifully here. The black leather women's flight suit hanging from the scaffolding system above, is yet another. The suit is a bit of a departure for Ervell, who won the CFDA Designer of the Year Award (opens in new tab) for menswear, and only recently expanded his focus to include womenswear.
A portion of both lines take inspiration from military garments, including bomber jackets and parkas, which are expertly tailored and elevated by luxurious materials and signature details, like the club collar - present throughout the clean, minimal capsule collection. Wool blazers and printed Japanese denim are also highlights.
While the work of both Ervell and Hudson are compelling, the one aspect of the experience that is universally adored is Maximus - BOFFO co-founder Gregory Sparks' beautiful black Labrador retriever - who will be enthusiastically greeting guests at the door until the shop closes on 2 November.
It's the latest project in the ongoing 'Building Fashion' series, which brings together an exciting roster of emerging fashion designers and architects to create dynamic temporary retail environments
Born in Sweden and raised in California, Ervell creates elegant, beautifully constructed pieces that stand in contrast to Hudson's rubble and ruin installation
It's a sophisticated juxtaposition, however. The range of construction materials, including everything from rebar and cinder blocks to planks of used wood flooring - all reclaimed from nearby renovation projects and dumpsters - is styled with the same precision Ervell brings to his collection
Glass doors (their chrome handles still attached) laid across piles of broken concrete blocks create a display platform in the middle of the space, with the stacks of plush sweaters on top marking another example of how trash and treasure work together beautifully
... and the black leather women's flight suit hanging from the scaffolding system above, is yet another. The suit is a bit of a departure for Ervell, who only recently expanded his focus to include womenswear
A portion of both lines take inspiration from military garments, including bomber jackets and parkas, which are expertly tailored and elevated by luxurious materials and detailing
ADDRESS
57 Walker Street
New York
NY 10013
VIEW GOOGLE MAPS (opens in new tab)