Artist Noé Sendas puts a surreal twist on this season's black and white classics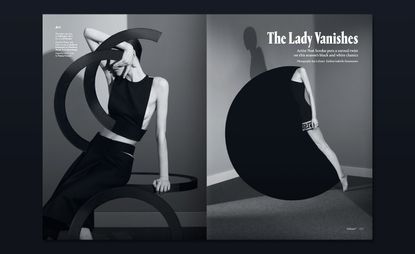 (Image credit: Jan Lehner)
If a picture is worth a thousand words, then what truth does the manipulated, concealed portrait of a woman really divulge? In both photography and real life, the masking of identity creates both panic and intrigue. As art critic Arthur Danto said of Cindy Sherman's Untitled Film Stills: 'The still must tease with the promise of a story the viewer of it itches to be told.' The role of art is to provoke rather than to reveal – to add meaning to an object that could otherwise be meaningless.

Belgian-born Noé Sendas with his 'un-collage' works takes things away in order to attach new meaning. Rooted in cinematic and literary references, the Berlin-based artist treats found photographs as sculpture, playing with notions of gravity, weight and balance. The focus he says is to 'not be afraid of making something beautifully strange and unexpected out of hard work, chance, trickery, desire and intuition.' His notable Crystal Girl series deconstructs film stills from Hollywood's golden age, yet as faces, limbs and context are eliminated, the portraits transform into enigmatic, elegant still lives.

Wallpaper's creative director Sarah Douglas invited Sendas to conceive the cover story for this month's Style Special (W*192), with the series set to go on show at Michael Hoppen Gallery during London Fashion Week later this month. Photographed by Jan Lehner in collaboration with our fashion director Isabelle Kountoure, The Lady Vanishes presents the body as an entity that is simultaneously theoretical and material.

'The goal was to create something that was both contemporary and timeless,' says Kountoure. 'I was really interested to see how Noé would create new works using new material.' The 16-page shoot incorporates some of spring/summer 2015's most graphic offerings, exploring how one image can provoke multiple perceptions in the observer. Here, with their expanded stillness, it is the clothing that is objectified, not the female form.

Sendas proposes that the role of the artist is to deceive: 'Someone who casts glamour – a charm affecting the eye of the spectator – making objects appear different from what they really are.' This is perhaps a way in which to understand the sublime affectation of fashion too.
ADDRESS
Michael Hoppen Gallery
3 Jubilee Place
London SW3 3TD
London based writer Dal Chodha is editor-in-chief of Archivist Addendum — a publishing project that explores the gap between fashion editorial and academe. He writes for various international titles and journals on fashion, art and culture and is a contributing editor at Wallpaper*. Chodha has been working in academic institutions for more than a decade and is Stage 1 Leader of the BA Fashion Communication and Promotion course at Central Saint Martins. In 2020 he published his first book SHOW NOTES, an original hybrid of journalism, poetry and provocation.