Spinning a yarn: Angela Missoni turns her hand to performance art and craft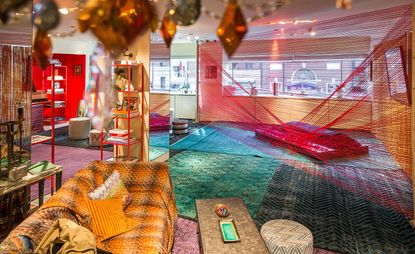 (Image credit: Press)
Last November, Angela Missoni caught a performance of Romina de Novellis' La Veglia in the Geneva home of collectors Julie Castoriano Bugnone and Edoardo Bugnone. The performance artist unravelled a web of yarn in the nude for a whole day, as a failed attempt at the liberation of the body. 'You should be nearly entering the meditation that she is while she's doing the knots,' says Bugnone. 'Listening to these traditional songs from the south of Italy that are sung in the local dialect.'

Raphael Castoriano, the founder of Kreëmart
and Missoni's friend and art advisor, suggested that the fashion designer bring the performance to New York. The problem, was, she didn't have a house in the city. 'I said, "No, we're going to recreate the space",' recalls Angela. Castoriano was receptive, and called on his network to help fill the Missoni flagship store with art and furniture, while Angela provided her own personal possessions. Salotto Angela Missoni was born, with De Novellis' performance inaugurating the space for the first three days. Part of the brand's 'Surface Conversion' mission to merge art and fashion, the Kreëmart
-presented space will be open by invitation in Missoni's Upper East Side boutique until 22 April.
Inside Raphael Castoriano and Angela Missoni's installation space, featuring Missoni poufs and a carpet by ABC
'We wanted to create a salon so people would speak to each other and what you see here – some people talking, some people leaving, coming back,' says Castoriano, who filled it with work by artists including Tracey Emin and Nir Hod – all practitioners held in Missoni's collection. 'My houses are very much alive, always between friends and family,' she continues.

Upon entering the Salotto, which feels like a bohemian living room, guests are greeted by a photographic work by Mickalene Thomas. Further in stands a sculpture by Josephine Meckseper. Assouline coffee-table books fill the shelves, while exotic rugs cover the floors. Angela added her own trinkets, like vintage Missoni pillows, family photographs and even a Missoni Barbie doll. 'I have sort of decoration, which is kind of eclectic,' says Angela. 'A mix of precious and less precious things – things that are precious for me.'

Both Castoriano and Missoni emphasised the need to keep the gatherings small, thus keeping it to a select group of friends and family. 'It cannot be a crowded space,' says Missoni. 'We need to keep this intimate.'
INFORMATION
Salotto Angela Missoni is on view until 22 April. For more information, visit the Kreëmart website (opens in new tab) or the Missoni website (opens in new tab)
ADDRESS
Missoni
1009 Madison Ave
New York NY 10075
VIEW GOOGLE MAPS (opens in new tab)