Zegna's new made-to-measure AI technology gives you 49 billion ways to dress
Revealed at Milan Design Week 2023, Zegna X extends the house's historical made-to-measure service using Microsoft-developed AI technology, giving billions of options to personalise its collections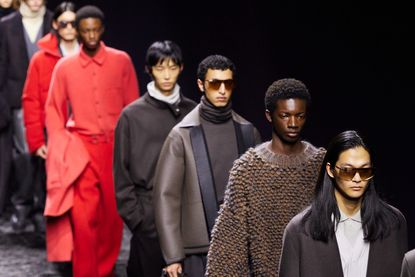 (Image credit: Courtesy of Zegna)
When you've dressed men since 1910, it's a fair assumption that you know how to meet their expectations. For the luxury Milan-based brand Zegna, that means moving into AI with its new platform, Zegna X, that takes its traditional made-to-measure service into state-of-the-art territory.
Developed in partnership with Shin Software and Microsoft, the premise of Zegna X is to engage with customers through social media, including WhatsApp and WeChat, to offer them bespoke tailoring solutions based on their personalised information developed with a 3D style configurator that can currently offer 49 billion different combinations of cuts and colours based on 2,300 products from its ready-to-wear and catwalk collections.
Currently only available in-store, the service is being rolled out online by 2024 so that customers can personalise their looks on the move or from the comfort of their desks. It is, says artistic director Alessandro Sartori, 'a deep dive into the tailoring experience', one that improves, rather than replaces, human interaction.
Zegna X is revealed at Milan Design Week 2023
'The tailor is still there and you have door-to-door delivery in four weeks, but [now] you can see yourself in a full outfit,' he explains. 'You can choose the fabrics and the garments and you can see the detail. So now we can treat the customer better [and] do a more complete job.'
The service will heighten the luxury experience, says Edoardo Zegna, chief sustainability and marketing officer, who coins the approach 'clienteling'.
'The most expensive thing we have today in our life is time and we have huge customers with amazing wallets and willingness to buy, they just do not have the time to do so,' he tells Wallpaper* during the brand's presentation of Zegna X during Milan Design Week 2023.
'I'll tell you what a luxury experience is for me,' he continues. 'I should be able to walk into a store and there is a room that is only in products of my size. When [we] offer a more efficient and straight-to-the-point experience, the customer sees the benefit and the spend increases drastically. A customer that is [engaged with] on a one-to-one basis spends 75 per cent more.'
'It's about: how can we focus on how people feel? And how can you make me even more comfortable? In order to be in people's lives, you need to know what they do and you need to be able to accompany them across the journey as a whole.'
Technicalities such as GDPR have been addressed, he says – 'it's very self-explanatory; when we sign up somebody, we ask them how they want to be contacted' – as have legalities in light of the recent banning of the AI chatbot ChatGPT by the Italian government. 'This is based on open AI that has not been banned at all.'
For Sartori, an esteemed designer who has had a hands-on approach to design his entire career, Zegna X is a tool that now informs his process.
'It's giving me more options and information to play with,' he explains. '[Because] it's more accurate, I have a feeling today that I know what I need to do. Before, we had good information, but not at this level.'
Scarlett Conlon a freelance journalist and consultant specialising in fashion, design and lifestyle. Before relocating to Italy, she held roles as deputy fashion editor at The Guardian and Observer and news editor at British Vogue in London. She is currently a regular contributor Wallpaper* Magazine among other prominent international fashion and design titles.