Vollebak's new clothing collection is dyed using ancient minerals and a prehistoric palette
Vollebak's 'Mineral' collection gets its unique colour palette from a series of ancient minerals in a natural dyeing process that has negligible environmental impact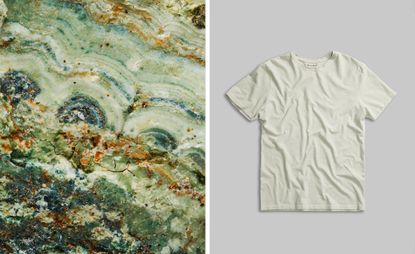 (Image credit: Courtesy of Vollebak)
London-based label Vollebak is known for its feats of innovation, whether sportswear that is made to aid recovery by enhancing the wearer's parasympathetic nervous system, a 'Mars Hoodie' with anti-gravity pockets ('chill-out gear designed to help you feel at home, even if you're 249 million miles away'), or the '100-year collection', comprising near-indestructible pieces made to withstand a century of wear. As Vollebak's tagline goes, these are 'clothes from the future'.
A new project from Vollebak, though, sees Steve and Nick Tidball – the adventurous twin brothers who founded the label – mine the past for ancient materials to enhance the brand's latest collection, which has been revealed this week. Titled 'Minerals', it comprises garments that get their unique colours from a series of natural mineral dyes that date back to the prehistoric era – namely, celadonite, hematite, ochre, and volcanic soil.
Prehistoric palette: Vollebak's 'Mineral' collection
In comparison to some of Vollebak's complex engineering-based projects, the 'Mineral' collection is defined by its relative ease – each garment is simply left to rest in a bath of each mineral, making the only byproducts natural sediment and water, 'both of which can go straight back to nature', as the brand puts it.
The various minerals each have a rich natural and cultural history – blood-red hematite is the main source of all iron on earth, celadonite is formed when lava and seawater meet, while ochre is the world's oldest pigment. Several were used by prehistoric man to create cave drawings and paintings (in 2011 a 73,000-year-old abstract sketch in South Africa was discovered, drawn by an ochre crayon and considered the first drawing in human history).
'As Vollebak continues to look for new, low-impact ways to dye clothing, we've turned to the colouring tools of early man for the "Mineral" range – minerals, rocks, and soils. Minerals don't just tell the story of life on Earth, they also tell the story of colour. And while we might think of prehistoric man in dark furs and even darker caves, their actual colour palette wouldn't look out of place on the streets of LA or Stockholm,' says Steve Tidball, CEO and co-founder.
Indeed, the softly rendered colours give each garment – spanning sweatshirts, sweatpants and T-shirts crafted from a cotton and hemp mix – a feeling of worn-in ease. While the clothes are made in Portugal, the minerals are sourced from the area of Italy between Venice and Verona – where the Apuan Alps (and its so-called 'marble mountains') sit next to the sedimentary carbonate rocks of the Dolomites.
Jack Moss is the Fashion Features Editor at Wallpaper*. Having previously held roles at 10, 10 Men and AnOther magazines, he joined the team in 2022. His work has a particular focus on the moments where fashion and style intersect with other creative disciplines – among them art and design – as well as championing a new generation of international talent and profiling the industry's leading figures and brands.