Inspired by home, Tekla opens a serene first store in Copenhagen's historic Egmont Building
Featuring Tekla's sleepwear, bedding and textiles, the debut store refines the Danish brand's considered, architecturally inspired approach to domesticity. Founders Charlie Hedin and Kristoffer Juhl tell Wallpaper* more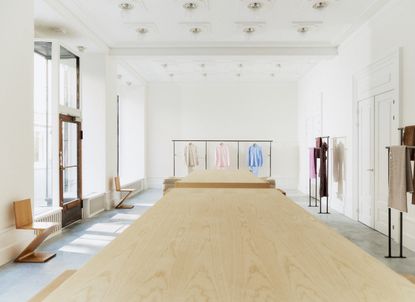 (Image credit: Courtesy of Tekla)
Danish textile label Tekla's serene, considered vision of domesticity is largely derived from founder and creative director Charlie Hedin's own aesthetic fixations, which centre around contemporary architecture and design – European modernists Alvar Aalto, Mies van der Rohe and Axel Vervoordt have all been noted by Hedin as prescient reference points for the Copenhagen-based label's designs, which span sleepwear, bedding and bathroom textiles. Recent collaborations have included a collection of hand-woven mohair blankets created alongside Les Couleurs Suisse AG – inspired by the custom colours used by Le Corbusier – and John Pawson, who has united with Tekla on a number of pieces inspired by his own Oxfordshire home.
It is little wonder, then, that Hedin – who founded Tekla in 2017 alongside now managing director Kristoffer Juhl – has relished the task of building a physical home for the label with its first-ever retail store, opening in Copenhagen today (22 April 2023). Speaking earlier in the week at a tour of the space on Vognmagergade in the city's historic Old Town, Hedin and Juhl both say that a store was on the cards since Tekla's beginnings, though it was the brand's rapid success during the pandemic – as people bedded down at home and sought to improve their then-all-encompassing domestic spaces – that allowed them to create what they hope is the first in a series of international bases for the label.
Inside Tekla Copenhagen store, the brand' first
'Before the pandemic, we were so small. When Covid came, we got big; we grew a lot and we were ready to open something, but it was still insecure in those two years,' Hedin says. 'Even after the pandemic, it took us at least another year to find the right space, to find a location we were happy with.'
In Copenhagen, despite its relatively diminutive size – most of the city can be traversed on foot or bike, inhabitants' favoured mode of transport – it was not easy to find the right space, says Hedin, with areas largely swaying between big-chain commercial streets or quiet strips of boutiques with unconventional opening times and a lack of footfall. They eventually settled on a 200 sq m ground-floor space inside the historic Egmont Building, first built by its namesake Egmont Petersen – an 1860-born Danish publisher and media titan – who created the vast building a block from the city's famous Rosenborg Castle Gardens in 1911 (its initial design was by Danish architect Bernhard Ingemann, though new sections were added in the decades which followed).
The building is an example of Nordic Classicism, a strain of early-20th-century European design which spread across Scandinavia and combined elements of National Romanticism – a form of Art Nouveau – and the burgeoning modernist movement. When Hedin and Juhl first entered the space, though, there was no trace of this history; instead, it was bare and industrial with all original elements stripped out by the previous owners, something Hedin and Juhl wanted to reverse in the store's design. In the months that followed, they worked on the space with an in-house team at Tekla, alongside Johannes Svartholm, an art director who has previously worked with Acne Studios.
'Everything you see inside the store now is built by us,' says Hedin. 'All of the fittings are inspired by the time the building is from; we tried to bring the exterior inside. It's an iconic building here in Copenhagen so we wanted to approach it with honesty, and the story, that we could.'
As such, the centrepiece of the store is its ceiling, installed with rows of art deco-inspired lights – custom-created for the project by Swedish lighting company Karlskrona – surrounded by elegant bespoke mouldings (Juhl says the ceiling was by far the most complex element of the store, requiring over a tonne of wood in its construction). These mouldings are echoed in the store's skirting and ornate doors – the latter designed to 'imitate rooms in a house' – while natural wood counters and steel rails, alongside a smooth poured-concrete floor, offer contemporary textural contrast. An array of collected vintage furniture – a hobby shared by both Hedin and Juhl – add to the feeling of entering a home, including Gerrit Rietveld's zig-zagging chairs for Cassina and a Pierre Chapo bed displaying Tekla bed sheets.
The store's product spans the brand's popular cotton pyjamas (just as popular out of bed, the signature shirt is a ubiquitous sight while walking Copenhagen's streets), bedding, bath towels and mats, alongside a slew of exclusive pieces – from carafes designed for a bedside table to tumble-drying balls. Boxer shorts and T-shirts, firsts for the brand, will also be available in the location. Through private appointments and in-store happenings, Hedin and Juhl hope the store will immerse people in the 'colours, quality and inspiration' of the brand, while also serving as a blueprint for external retailers when displaying Tekla products in their own retail spaces. Though tight-lipped as to when and where, they hope to introduce the concept to further new stores worldwide (the US and the UK are the brand's largest markets, though it is also expanding rapidly in South Korea and Japan).
'I think it all came down to five years of experiences, of considerations, concerns, ideas,' says Juhl. 'Like: how can we present our products in distinct ways? How can we give product space to shine and for people to experience them, with feelings? I think one of the bigger moments we had was about a year ago thinking about service – the idea that service is going to be really instrumental, that people are taken care of, with a level of detail and attention that doesn't really exist anymore.'
'Those things combined with beautiful ceilings, beautiful fixtures and a beautiful space,' he continues. 'We really think it can be special.'
Tekla Copenhagen, Vognmagergade 7, 1120 Københav

teklafabrics.com
Jack Moss is the Fashion Features Editor at Wallpaper*. Having previously held roles at 10, 10 Men and AnOther magazines, he joined the team in 2022. His work has a particular focus on the moments where fashion and style intersect with other creative disciplines – among them art and design – as well as championing a new generation of international talent and profiling the industry's leading figures and brands.