Is Spinnova the world's most sustainable fibre?
Spinnova – 100 per cent natural, biodegradable and recyclable, with zero microplastics – is now being used by some of the world's biggest apparel brands. Wallpaper* takes a look inside the brand's new Finnish factory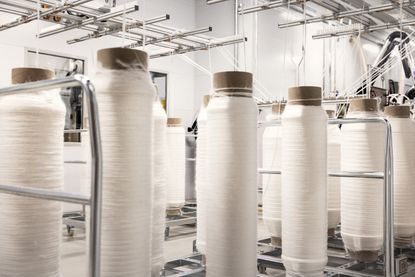 (Image credit: Courtesy of Woodspin)
Spinnova, a leading Finnish climate-positive fibre-technology company known for its namesake cotton-like fibre, which is made from wood cellulose, wants to transform the global textile industry to benefit the environment and humanity. It is launching a new global-scale zero-emission factory in the city of Jyväskylä in central Finland.
The Future Fibre Factory, as they call it, is operated by Woodspin, a 50-50 joint venture of Spinnova and Brazil-based Suzano, the world's largest hardwood pulp producer. Woodspin is the exclusive producer and distributor of the wood-based Spinnova fibre. It was built on a shared desire for sustainability and innovation; as such, the collaborators coined the term 'innovability' to reflect their shared vision.
Inside Spinnova's new factory in Jyväskylä, Finland
'The fashion and textile industry accounts for four to ten per cent of global CO2 emissions, most of which come from raw materials of the garments we wear,' says Ben Selby, interim CEO of Spinnova. 'This factory is the first step towards getting the scale of the most sustainable fibre production that the industry really needs to address environmental challenges.'
The facility has the capacity of scaling up to 1,000 tonnes of sustainable textile fibre production annually. Woodspin aims to grow this to one million tonnes by 2031-2033 (for context, today's textile industry size is 110 million tonnes a year). 'That is less than one per cent of the market,' says Juha Salmela, chief technology officer and co-founder of Spinnova, addressing the enormity of the task at hand. 'We must make a much bigger change with more innovations. We don't see other new fibre products as competitors. We need to eliminate polyester from the world.'
The genesis of the technology was hatched when Salmela, then a chief researcher and cellulose expert at the Technical Center of Finland (VTT), heard Professor Fritz Vollrath, spider web and silk expert from Oxford University, explain the similarities between spiderweb's protein and nanocellulose. Salmela thought, 'What if wood fibre could be spun into textile fibre similar to this natural process?'
Five years later, Janne Poranen, executive chair and co-founder of Spinnova, then the head of biomaterials at VTT, proposed to Salmela the idea of a spin-off business to realise the potential of the patented technology that Salmela's team had been developing. Together, they co-founded Spinnova in 2015.
Powered by this nature-mimicking technology, Spinnova fibre is 100 per cent natural, 100 per cent biodegradable, 100 per cent recyclable and uses zero microplastics. Unlike conventional factories, its production process not only uses zero per cent harmful chemicals, 99 per cent less water and emits 74 per cent less CO2 than conventional cotton production, but produces zero pollution and zero waste. The only by-product of the first factory is surplus heat, which is reused in the local district heating network. It helps to avoid burning fossil fuels for heat, making for -2.4kg of CO2 eq emissions per one kilogram fibre produced. In fact, with so many circular economy innovations, Woodspin did not even need an environmental permit to build the factory.
The raw material of Spinnova fibre is wood pulp made from Suzano's sustainably grown eucalyptus trees planted on 1.2 million hectares of land. The company also maintains 900,000 hectares of protected forest. Suzano's chair of board of directors Christian Orglmeister notes, 'Humanity and nature have to cooperate with each other.'
Eucalyptus trees have two advantages. At a seven-year cycle, they grow much quicker than many types of trees, which can take from 20 years to a full century to achieve the same growth. While the fibre structure of eucalyptus differs from other trees, such as pine and spruce, Spinnova technology fashions it into the same quality textile fibre as from other trees.
In the factory, the pulp is mechanically, not chemically, fractionated into micro-fibrillated cellulose, which is then screened, dried, and spun into one white continuous filament (to compare, Lyocell, another widely used sustainable fibre, uses a complex chemical process in a closed cycle).
'Spinnova fibre is very different from synthetic fibres. The cellulose domain has two types of fibre: nature and manmade. Spinnova's technology is a hybrid of natural and mechanical processes,' explains Shahriare Mahmood, chief sustainability officer of Spinnova. 'The end-product is more comparable to natural fibres like cotton, linen and other nature cellulose ones. Technical properties and esthetics are like those of natural fibre. Its application, texture, and behaviours are similar to nature-based fibres like cotton.'
With such technological leaps forward, Spinnova looks poised to follow what Intel achieved with personal computers, or Gore-Tex for waterproof performance gear. The founders hope that when consumers see Spinnova fibre on an end-product label, they know where the raw materials come from and how the piece was made. Adidas, H&M Group, Marimekko, and several other major apparel companies have already utilised Spinnova fibres; others look set to follow. It has even been adopted by emerging names – its latest collaboration is with Sofia Ilmonen, an Hyères-awarded Finnish fashion designer known for her modifiable module concept for clothing (it has been compared to Lego blocks).
The factory's architecture also echoes Woodspin's concept of 'innovability'. The diamond-pattern structures on the outer layer are designed for vine trees to grow and climb, eventually covering the surfaces to provide shade and protect the main wooden exteriors from rising temperatures and rainfall.
The vertical pillars in the front of the building gradually lean one-by-one towards the entrance area like dominos, and continue to lean inside the hallway, creating triangular structures with a chapel-like atmosphere. This light-filled lobby is multifunctional: a gateway to the factory and a space for various events. Small eucalyptus trees grow in the middle.
It might not be an exaggeration to say the Woodspin Future Fibre Factory is a living, giving, renewing facility that mimics nature – creating, as per the Spinnova claim, 'the most sustainable natural fibre in the world'.
Naomi Moriyama is a contributing writer for Wallpaper*. She is co-author of 'The Sisterhood of the Enchanted Forest: Sustenance, Wisdom & Awakening in Finland's Karelia,' which explains, through personal journeys, how connections to nature and democratic design principles have helped make Finland the world's happiest nation. She also co-authored three books on the health benefits of traditional Japanese foods. Naomi is a Tokyo-born New Yorker who spends much time in Helsinki.