Santa Maria Novella: a medieval brand enters the modern age
Founded in 1221, Santa Maria Novella is the world's oldest beauty brand, being ushered into the modern era by a new CEO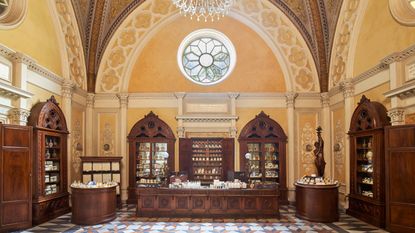 (Image credit: Santa Maria Novella )
Wallpaper* Newsletter
Receive our daily digest of inspiration, escapism and design stories from around the world direct to your inbox
Thank you for signing up to Wallpaper. You will receive a verification email shortly.
There was a problem. Please refresh the page and try again.
Officina Profumo-Farmaceutica di Santa Maria Novella has endured the rise and fall of various kingdoms, two World Wars, every pandemic from the Black Death to Covid, and countless other historical catastrophes and changes.
There is probably no other brand that could find a more impressive testament to its popularity; but why exactly has Santa Maria Novella – the original 'olfactory pharmacy' – managed to exist for 800 years?
The history of Santa Maria Novella
According to Gian Luca Perris, who became the brand's CEO in 2022, the answer is simple – innovation, a pioneering spirit that has made it an outlier among its competitors in every century from the 13th century to the 21st.
It all began in 1221, when a group of Dominican friars in Florence began cultivating herbs and plants on the grounds of a small church, which they then used to craft a range of medicines, balms and ointments. When the Black Plague ravaged the region, their rose water became a go-to prevention method; and when they saved a rich merchant from the brink of death, he gifted them the magnificent San Niccolò-devoted chapel that today is the brand's main boutique and a popular tourist attraction.
By the 15th century, the popularity of Santa Maria Novella began to extend beyond Florence, thanks to Catherine de' Medici, who chose Renato Bianco, raised by Santa Maria Novella's Dominican friars, to accompany her as personal perfumer when she married Henry II of France (the brand's Acqua della Regina perfume is derived from the fragrance she used to wear).
In more recent times, Santa Maria Novella is best known as a purveyor of luxurious bath products and fragranced curiosities, objects like scented wax tablets that freshen the clothes in your closets and drawers; a perfumed ceramic pomegranate (frequently cited to us as a favourite home object); scented 'Carta d'Armenia' papers that can be carried in your purse and burned to cleanse the air. The quality of these objects, their ornate vintage-style packaging and their historical backstory make them appeal across generations and aesthetic preferences (they make great gifts for anyone).
And while being a reliable heritage brand is a good thing, Perris wants to ensure that 'Santa Maria Novella doesn't become a museum'.
'It is important to create innovations, while still keeping in mind the roots that allowed this company to last until now,' Perris tells me as we sit together inside the historic Florentine store. 'The monks were great innovators – they were researching new ingredients, making new formulas, working with the Medici family to invest in chemistry and in pharmaceuticals; so we need to keep that in mind, but we also need to go back from time to time and reboot things from the archive.'
Perris' first reboot in his new role was turning Acqua di Rosa – one of the brand's signature products, derived from its Black Plague formulation – into a full skincare collection. From there, Perris, who was a perfumer before he was a CEO, debuted four eaux de parfums – L'Iris, Bizzarria, Gelsomino, Magnolia – with ingredients derived from the gardens of the Medici villas.
Between the 15th and 17th centuries, the Medicis used the gardens of their various Tuscan estates as testing grounds for botanical experiments. These included a breed of jasmine from Goa that the King of Portugal gave to Cosimo III de' Medici in 1688. Medici became so enamoured with the flower that he prohibited its cultivation by anyone else and built a secret greenhouse at his Villa di Castello to grow it for himself. But now, the 'Goa Jasmine' can be experienced as the key ingredient in Santa Maria Novella's Gelsomino fragrance.
Similarly, the Bizzarria fragrance takes its composition from the bizzarria fruit, a hybrid between bitter orange, etrog and lemon that the Medicis kept in their greenhouses and which was thought to be lost until it was rediscovered by chance in 1980. Meanwhile, the Magnolia fragrance is inspired by the grand Magnolia Grandiflora tree that graces the façade of Villa Medici di Castello; and L'Iris is a tribute to the symbol of Florence since 1266, the iris flower.
In another grand homage to its Florentine roots, the brand is funding the restoration of the garden and façade of the Stufa dei Mugherini Medici Palace, because, in the words of the brand, it is precisely in places like this, gardens in which expert botanists passionately cultivate plants and herbs with kaleidoscopic colours and profound scents, 'that some of the essences that made famous the Officina Profumo-Farmaceutica di Santa Maria Novella were born and thrive still'.
Receive our daily digest of inspiration, escapism and design stories from around the world direct to your inbox
Mary Cleary is the Beauty & Grooming Editor of Wallpaper*. Having been with the brand since 2017, she became an editor in February 2020 with the launch of the brand's new beauty & grooming channel. Her work seeks to offer a new perspective on beauty, focusing on the pioneering personalities, product designs, and transformative trends within the industry.