New York Fashion Week A/W 2023: Thom Browne to Michael Kors
The trends and takeaways from New York Fashion Week A/W 2023 as Wallpaper* reports live from the shows, which include notable returns from Rodarte and Thom Browne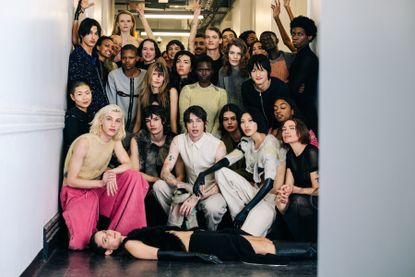 (Image credit: Photography by Adam Katz Sinding, courtesy of Eckhaus Latta)
New York Fashion Week A/W 2023 arrives with noticeably less pomp and circumstance than its triumphant, post-pandemic S/S 2023 iteration last September. Blame it on the weather, or a tentative global economy, but the schedule is noticeably thinner this year with the absence of several hometown favourites, including Peter Do, Ralph Lauren, Tom Ford and Maryam Nassir Zadeh. Usually a tent pole of the week, Marc Jacobs also opted to do his own thing, presenting his homage to the late Vivienne Westwood, a week ahead of schedule.
But this season is not without its highlights. Rodarte and Thom Browne (who now serves as the chairman of the Council of Fashion Designers America) both return to the Big Apple and at big venues – Rodarte will take over the historic Williamsburgh Savings Bank in Brooklyn, while Browne is set to bring his theatrics to The Shed. This season also sees the runway debut of Heron Preston, who handmade each of his runway invitations using upcycled materials (everything from deflated soccer balls to broken ceramic tiles) that he gathered from all over the city.
With plenty of favourites still present to keep up the buoyancy of last season, we can expect surprises galore. And for visitors keen to support the economy, there is a host of new stores to explore; Khaite for one, will complement its runway show with the opening of its first standalone boutique, following its previous Khaite pop-ups.
Here, Wallpaper* reports on the highlights of New York Fashion Week A/W 2023, as they happen. PRK
New York Fashion Week A/W 2023: the highlights
Luar
With community playing a key role in defining the Luar brand, designer Raul Lopez used his runway show to kick off three days of cultural programming held at the Faurchou Foundation in Brooklyn's Greenpoint neighbourhood. Continuing Luar's collaboration with Stella Artois last season, the 'Steluar' pop-up space democratises access to New York Fashion Week with art-centric panel discussions, a community hub partnership with Nike (a longtime partner), and a retail store, where products seen on the runway and special commemorative pieces will all be up for grabs. The new collection, a continued celebration of Lopez's Dominican heritage and immigrant experience, saw a reprise of the exaggerated suit silhouettes from last season – oversized, rounded shoulders in navy and grey pinstripes, teamed with puddle length trousers. Titled 'Calle Pero Elegante' – a nod to the stylish mafiosas who ran the Williamsburg neighbourhood that Lopez grew up in – the collection was indeed 'street elegance' with iterations of hooded sweatshirts (large and draped for drama) denim jackets (in patchwork and raw selvedge), and padded puffer jackets, which was cast in a double-breasted overcoat shape in one instance. For Lopez, these women – good wives and gangsteresses alike – remain the prototype with their deft understanding of how to move fluidly between situations. A highlight of the season was the vision of evening wear that Lopez put forward, from hooded jersey gowns and artfully draped crepe skirts to knitted dresses with provocative cut-outs and trailing sashes. Subversive and deconstructed with leather bondage elements and the Luar logo woven in, this evolution proved that Lopez still has many tricks up his sleeve. PRK
Willy Chavarria
The Cooper Hewitt, Smithsonian Design Museum, on the edge of Central Park hosted an intimate show on Wednesday evening for Willy Chavarria in its wooden panelled entrance hall – a much more controlled affair than the thronging crowds of September. A voice-over by the museum director Maria Nicanor introduced Chavarria, noting his recent win of the Cooper Hewitt's 2022 National Design Award for Fashion (Emily Adams Bode Aujla took home Emerging Fashion Designer), a multi-discipline award that was established in 2000 as part of the White House's Millennium Council initiative.
The show opened with uplifting strings and a vocal performance by singer Dorian Wood wearing a strapless dress with corsage. Calling on his Mexican-American heritage, Chavarria deftly crafts silhouettes that call on his Latine culture, mixing historic and contemporary silhouettes, such as super wide-leg pants, robe-like overcoats, crisp white shirting with dramatic bows and a flash of patent loafers. In places it felt beautifully sorrowful: black chiffon pussy-bow blouses (one done up, another left trailing open over the shoulders) and black satin tuxedo trousers were dramatically sombre. An empire line double-breasted coat in matt black satin was worn with elbow-length leather gloves. But Chavarria manages to make it all feel natural (perhaps something to do with his tenure working for several American powerhouses including Calvin Klein and Ralph Lauren, where clothes not fantasy sell). How he manages to address themes of sexuality, identity, religion, race, honour, acceptance and community, with tenderness and romance in seven minutes is why he is garnering so much attention.
In her opening remarks, the museum's director commented on the intention of their fashion prize being to promote 'excellence and inclusivity in fashion'. Chavarria is more than delivering. TMS
Michael Kors
The final day of New York Fashion Week began in the Meatpacking District, with Michael Kors delivering a particularly sleek and cosy offering in sumptuous hues of chocolate brown, pleasing greige and classic camel. The crowds jostling outside for a glimpse through the windows of the models and the man himself pointed to the weight this bastion of New York still holds. There were plenty of updates here to please his fans, from a fluted-sleeve knit dress, tailoring tweaked to a contemporary top-heavy silhouette and several capes that actually felt convincing (not fashion posturing) with cleverly positioned ghost pockets allowing arms to peek through. A smattering of menswear seemed to have been specifically selected to appeal to the women in the audience too: generously oversized scarves with leather tassels, enveloping roll necks, and tweed overcoats. TMS
Thom Browne
Thom Browne's choice of The Shed, New York City's multidisciplinary cultural destination, proved to be especially apt for his collection this season. In one of the sprawling gallery spaces, guests were greeted by a dream-like, all-grey installation featuring a propeller plane crashed into the sand under a sea of stars and planets, all situated upon a larger-than-life clock face, as its movement could be heard ticking along. The tale that followed, which loosely referenced Antoine de Saint-Exupéry's The Little Prince, saw fantastical figures emerge cloaked in Browne's signature pinstripe suits, deconstructed into multiple forms and worn over tweed dresses, scattered with celestial embroidery. Elsewhere, paisley jacquard corsets, paired with oversized tweed coats in a variety of motifs and densities, were worn with sculptural clock-shaped heels and briefcases. The silhouettes and garments were wonderfully androgynous with shorts, trousers, skirts and dresses all hitting mid-calf, or right below the knee. A dégradé silver and gold bullion-embroidered top and skirt, worn over a full-length paisley jacquard dress, was especially captivating. From the visibly intricate craftsmanship behind each garment's components, to the way the brand's signature pieces have been reworked and reformed into new garments – several dresses were fashioned out of blazer and shirt patterns and re-draped for a deconstructed effect – Browne's ability to deliver a full-fledged fantasy has far from waned. PRK
Head of State
When Taofeek Abijako established his label, Head of State, at age 17 back in 2016, it was founded with the mission to represent postcolonial African youth culture. Now, seven years later, Abijako continues to display a confidence and assuredness that is beyond his years. For this collection, 'Memories of Home', Abijako paid homage to his father Nureni Abijako's journey from Lagos, Nigeria to Spain in the early 2000s, which involved crossing deserts and illegally sailing on a boat across seas, all in search of a better future in the west. Each look reflected the many memories of home that Abijako Sr. dreamt of along his migration – family, the air back home, architecture, and conversations that were once had. Set to a rousing soundtrack that included Nigerian folk songs and music, models donned long braids and tear-streaked faces to showcase curve-hem dresses, fitted flare-legged suits, slinky asymmetric gowns and jackets with sculpted shoulders (a definite highlight) in a vibrant colour palette. All around, there were specific references to Lagos' unique architectural texture, social nuances and landmarks, which made the show's finale, when Taofeek's parents rushed the runway to hug their designer son, even more significant. 'My father's journey both away from his home and back, retraced and foreshadowed the journey that many refugees, displaced people and marginalised communities have made, are making and will make this century,' Taofeek stated. 'As the refugee crisis grows, it becomes more and more important to reflect on our own memories of home, and how what we remember will shape what is to come.' PRK
Gabriela Hearst
Classicism has always been a guiding facet of Gabriela Hearst's collections, but this season, it appeared reinforced with a timeless collection. The designer's muse was none other than Eileen Gray, whose experimentations with chrome and pioneering approach to furniture design and architecture influenced many of the garments. A cut-out leather duster, made from individual squares echoed Gray's 'Brick' screen (1923), while a new handbag design (the 'Eileen') featuring an internal frame, slotted screw clasp and a painted stripe handle nodding to paintings Gray made in the 1920s. The collection's strong design influence was also felt in the show's set – a suspended iteration of the late Spanish architect Ricardo Bofill's 'The City in Space', his utopian and futuristic vision of living which fused together geometric volumes with Mediterranean housing typologies to create a new matrix configuration. Hung above a reflective gold floor and made from deadstock and leftover materials from previous projects, the installation, made in partnership with Ricardo Bofill Taller de Arquitectura, will be donated to Materials for the Arts – a creative reuse centre working with public schools and art institutions. PRK
Tory Burch
There's a distinct mood that the New York collections are feeling more grown-up and polished – a little less work-from-home orientated. It feels refreshing. This evening, downtown between Tribeca and Wall Street, Tory Burch showed a succinct 36 looks which she said 'challenge perceptions of beauty and femininity'. There was certainly a precision and discipline to the collection by way of several pristinely cut coats, tailoring that took on new contemporary proportions and streamlined power mesh and corsetry for eveningwear. Nevertheless, it still felt easy in that New York hands-in-pocket way – a supple brown suede trench was worn so nonchalantly far back on the shoulders as to reveal the model's clavicles. A few brands have been trying to hit the perfect overcoat: exaggerated at the shoulder without feeling costume-y, nipped enough at the waist not to drown you but still retain a mannish feel, and often double-breasted. Burch's tweedy offering hit all the right notes. What's more, worn with fishnets and low-heeled patent courts, it was tantalising sexy. TMS
Batsheva
Once synonymous with prairie dresses, Batsheva has gradually evolved to capture the unique melange of idiosyncrasies that collectively define New York City. That change became stronger this season with the label's founder Batsheva Hay opting to unveil her new offerings with a live installation set on the upper floor of Bortolami Gallery in Tribeca. In the intimate white box space, racks adorned with the new collection were stationed alongside a crew of dressers, hair and make-up people and a cast of the brand's nearest and dearest, who took turns trying on the various looks. Titled 'The Self in a New Dress', the presentation was intended to highlight the individuality that garments take on when worn by different people – and judging from the array of Batsheva fans in the room, there are many. Batsheva has always prided itself on subverting the pillars of American womenswear, from housewife dresses to Victorian collars and a love of punk-leaning holographic lamé, questioning antiquated notions of womanhood through her use of elements that symbolise restraint and repression. This season, this was expressed through new, off-kilter silhouettes – a frilly, Victoriana gown in a patchwork of clashing fabrics, balloon pants with ankle ties in a dizzy peach and blazers in graphic two-tone prints. Part ready-to-wear, part art project, Batsheva's essence is rooted in its playfulness and rebelliousness against the norm. PRK
Coach
This summer will mark a decade of Stuart Vevers' tenure at Coach. He has taken the American accessible luxury brand through various guises over the seasons, and today, a punk spirit resonated. Models with shaved heads and waist-length twisted braids walked at a furious pace in heavy hiking boots as Placebo rang out 'every me and every you'. The insurgent mood arrived in contrast to the setting, an intimate affair in the carpeted lobby of the Park Avenue Armory (last season the brand transformed the main hall here into a giant arena of sorts with bleachers seating).
There was a lot of leather, distressed denim and shearling. Certain styles of leather pieces – of which there were many in the form of motorcycle jackets, trenches, and long lean skirts, worn by both the girls and boys – were made from repurposed leather garments and scraps, making each one-of-a-kind. In contrast to the leather, a déshabillé cobwebby silk chiffon dress appeared in several colours, naturally dyed with botanicals like logwood, safflower, and marigold and designed using fabric scraps to reduce waste. 'These designs not only showcase our Coach codes and our love of craft, they redefine heritage within the context of sustainability – crafting pieces to last not just for one lifespan, but with a circular lifecycle in mind,' wrote Vevers in his press notes. A couple of oversized chocolate brown shearling teddy coats shot through with sparkles, meanwhile, will appeal to the brand's more traditional luxury customer. Little top-handle bags came in the shape of hearts, stars, lips, apples, fish and dog bones. The oversized tote bags were vegetable dyed. A tight edit of ideas was explored in depth, in multiple variations. 'There's a straightforwardness that reflects where we're headed in the future,' said Vevers. TMS
Zankov
A crowd had already gathered this morning ahead of Henry Zankov opening the doors to his presentation in Tribeca. 'You know, I was thinking a lot about what my husband and I have been up to. We travelled a lot and were without a fixed base for a while – in Milan, Paris, the city here, and upstate New York – and when I was designing I was really thinking a lot about those pieces you want to have with you always,' said the Russia-born, American designer known for his colourful knitwear. 'The collection is very eclectic but everything feels seductive and romantic. It's graphic, of course – the pieces function well on their own, or you can mix it all together and it clashes but I love that.' Perforated intarsia knit – here in black with baby blue and brown – is becoming a signature. Intense colours – cassis, tobacco, raisin, quartz, and apricot – read as bold but sophisticated. New textiles this season included hand-embroidered sequins that had been screen printed on top to subtly take down the shine. One white mohair sweater featured a pink block, inspired by the works of Daniel Reynolds, which hung on the walls of the downtown gallery space. The artist and print designer, who uses wax crayons and pencil to create his graphic works in large and small scale, was also present; the pair had met while working for a New York designer and cemented their friendship while both teaching at Parsons. Together, it was another gloriously optimistic collection from the knitwear designer, demonstrating that the category has huge potential. TMS
Carolina Herrera
19th-century aristocrat Duchess Elisabeth of Bavaria (also known as Sisi), served as the muse this season for Wes Gordon, creative director of Carolina Herrera. Inspired by the dichotomy of grandeur and discipline that Sisi embodied, Gordon filled the collection with clean lines and high drama, offering an unapologetic attitude to dressing. Honing in on the idea of opulence in a multitude of forms, Gordon presented dresses with strict portrait necklines and sumptuous spiral folds, glittering brocade-like parkas and a floor-length hooded anorak in boisterous upholstery-style florals. The palette drew from rich jewel tones, which were further amplified by the use of decadent fabrics, like velvet and taffeta, and ornate, gilded embroidery. While there were plenty of embellishments, where the collection really began to sing was in its restraint. A pale lavender gown, with a simple black tulle neckline was a memorable high point, as well as a monochrome silk capelet and skirt set, first in chartreuse and followed by a fuchsia version, that both cut a strong figure. Bold stripes brought a freshness to classic column silhouettes, which also boasted figure-hugging draped elements. The idea of opulence was also conveyed through the atelier's expert craftsmanship, which was on full display. From sharply tailored suits to multi-layered tulle confections, there was a consistent feeling of elevation behind every piece. PRK
Khaite
The setting for Khaite's show tonight was its new Soho address at 165 Mercer Street. Cate Holstein, winner of the 2022 CFDA American Womenswear Designer of the Year Award, has opened her first permanent bricks-and-mortar home for the brand, after experimenting with a series of successful pop-ups globally: a stark bare concrete interior with imposing curved steel segments of wall, and at the back, a real evergreen tree in a design by architect Griffin Frazen.
Not to detract from the clothes in question but worth noting, Holstein – who greeted guests and journalists front of house after the show – is moments away from giving birth. The reason to mention it is two-fold: firstly, because the show notes aptly opened with a quote by America's twice poet-laureate, Stanley Kunitz which read: 'No doubt the next chapter / in my book of transformations / is already written. I am not done with my changes.' And secondly, because delivering a collection of such clarity and precision, whilst completing a major store build, at any time would be momentous, but whilst growing a person it is downright heroic.
What Holstein does so well, and so uniquely, is balance the strict reductiveness of her clothes with sensuality and lightness. For every architecturally tailored overcoat or tunic dress there's a flurry of chiffon in bountiful sunray pleats (yards and yards of it) or a thigh-high boot to tantalise. The boots! In glossy black croc and gold, peeking out from under immaculate shift dresses slit up the seams to the thigh. Holstein manages to deftly take the very American concept of wardrobing and imbue every item with desire – harder said than done. It's certainly befitting for a time when we are asking so much of our clothes; we want them to work harder, be more special, last longer, and stay relevant. Whatever your tastes run to, there's no denying the sheer calibre of the production here, which is second to none considering we are talking off-the-peg ready-to-wear. TMS
Puppets and Puppets
Prior to the show today, fans could witness a 'cookie cam' on the brand's Instagram: a witty, lo-fi endeavour whereby the cookie handbag that has become a Puppets and Puppets signature made the rounds backstage, including getting its facade touched up in the make-up area. Food continued as the star of the show front of house, too; on the runway, sculptural towers of sliced white bread were smothered with peanut butter and jam, dirty dishes left on trays on the floor, and piles of wedding cake were surreally piled up on the blue and white tiled floors. Fried egg motifs appeared throughout the collection, whether positioned over breasts, sliding off the toes of court shoes, or stuck to the side of small top-handle bags. So far as the actual clothes, designer Carly Mark feasted on snakeskin, paisley prints, lace and cord to create a layered and textural collection, throwing in remarkably wearable pieces such as a tweed suit jacket with sheer panel and a merlot sequin shift dress. TMS
Ulla Johnson
Guests were whisked up to the 65th floor of The Spiral, a newly finished 66-storey skyscraper built by Bjarke Ingels Group as part of the Hudson Yards development, and treated to a grey but clear view of the city stretching for miles around. Inside the glass and metal tower, Ulla Johnson's rich and vibrant offering began with a giant winding carpet – made in segments in Morocco – which was set to be disassembled post-show and given a second life in Johnson's stores. A live soundtrack was provided by Black Belt Eagle Scout, who played her white electric guitar with the Empire State Building in relief behind her.
Johnson's propensity for craftsmanship was at the centre of the collection itself, here with the addition of tailored, streamlined silhouettes which gave the result of feeling grounded yet dreamy – the traveller returning home to the city for the winter, perhaps. Elsewhere, Johnson presented an eclectic mix of pieces: a full skirt in knife-sharp sunray pleats, printed and in glistening golden yellow, an architectural ox-blood leather jacket (fast becoming the colour of the season) cinched at the waist and florals, worn with fall-ready puffa jackets. Crochet, meanwhile, felt grown up and artisanal, arriving in incredibly complex designs. Footwear was of particular note, including whip-stitched heeled riding boots and pointed flats fashioned from velvet woven ribbons. TMS
Heron Preston
Heron Preston has drawn inspiration from the streets of New York since he established his eponymous fashion label in 2016. From capsule collections with Calvin Klein to one-of-a-kind art pieces made from MycoWorks' proprietary mycelium material, Reishi, the multi-hyphenate creative director-artist-DJ has consistently blurred the lines on what traditionally counts as high and low. For his first-ever runway presentation, Preston continued this exploration, elevating multiple aspects of the mundane and everyday life in New York City. Preston, along with two assistants, set the tone for the show by donning ubiquitous high-visibility work vests to paint curving patterns on the runway. The collection that followed ranged from the brand's riffs on essential workwear pieces – from canvas fireman coats, frayed carpenter jeans and leather utility jackets, to elements distilled from Preston's love of vintage and pre-loved garments, featuring heavy distressing and natural ageing. The mish-mash of shearling, faux fur, statement footwear and traditional sports and motocross graphics echoed the way different worlds clash and blend together on the streets of the city. A cool embrace of industrial textures also showed itself through chainmail-style mesh tops for women, rubber-dipped silver jewellery and Tyvek padded boilersuits for men. Footwear, always a strong suit, saw the reintroduction of the 'Level' heel – a shoe style with a construction leveller embedded in the heel as a hero staple of the women's collection. PRK
Eckhaus Latta
One of the most joyful observations of Echkaus Latta's shows is their consistent enthusiasm to share the moment with friends and fans. This sense of community often spills over into their casting, as often friends will walk for them – the White Lotus actor Jon Gries appeared this evening in a mohair jumper and jeans – and their creative collaborators, such as the photographer Mary Manning. Tonight, in the Lower East Side atop six flights of stairs in a show that began in pitch black, they showed thirty menswear and womenswear looks to a soundtrack of industrial electronic music by Manchester duo Demdike Stare. Visceral, raw, natural, dark: Mike Eckhaus and Zoe Latta have a knack for distilling a swelling undercurrent into clothing without it feeling performative, or overly narrative. Nature, and all its current tensions and arresting undoings, seemed to be front of mind, given the presence of cracked leather, raw linen punctuated with exposed zips, felted wool, shearling and fur. A Seventies vibe was evoked in roomy jumbo cord pants, exaggerated platform shoes (sometimes in rainbow colours), bare lithe arms, and cobwebby mohair. The soundtrack drove on with urgency. Degradé prints, latex gloves with thumbs protruding, a beautiful grey wool overcoat with its seams intentionally exposed and delicate organza that took on a plasticky appearance all added to a sense of unrest – things perhaps not being quite as they first appear. TMS
Area
Area struck a beautiful balance between statement and spectacle this season, with a surrealist-leaning collection that proved to be wearable as well. Set against a panoramic view of the United Nations and the East River, the label's creative force Piotrek Panszczyk-Burke says that this season was about the 'beauty of fruits and their symbolic meaning' (the show itself was titled 'Fabulous Fruits', and is the brand's S/S 2023 collection). The banana – a rubber version served as the show's invitation – was shaped into architectural gowns and dresses. The watermelon also appeared; two halves in pink sequins and velvet created a memorable silhouette for a cocktail dress. The label's signature woven silhouettes, featuring eye-catching cut-outs, also made an appearance as a catsuit, mini skirts and bustiers, this season detailed to resemble cascading bunches of bananas. Most memorable was the brand's experimentation with feathers and flies, faux versions of the latter covering the raw space's columns and floors. In garment form, intense configurations of beads on bodices and buoying constructions extending from the shoulders resembled the insects swarming around the wearer as the models took the runway. The ideal finishing touch was revealed in the fruits of a new footwear collaboration with Sergio Rossi, which ranged from feathered gladiator sandals to bejewelled ribbon heels. PRK
Proenza Schouler
In a season when several of New York's power players are notably absent, Proenza Schouler feels like one of the city's remaining establishments. Celebrating its 20th anniversary, the still-independent brand brought the city's characteristic energy via a guest list of friends that included Marc Jacobs and Natasha Lyonne wearing September's polka dots. A hot cast of creative collaborators were also involved: a voice over – or rather specially commissioned 'inner monologue' on daily life the mundane and the profound, friends, family, and work in the city – was written by American novelist Ottessa Moshfegh, narrated by Chloë Sevigny (who also opened the show) and set to a score composed by Arca.
Jack McCollough and Lazaro Hernandez described the show as 'possibly our most personal collection, in that it feels truest to what we personally love... it is simply a collection of clothing we find compelling and essential right now, a complete wardrobe.' This manifested in what felt like a revisiting of the very best of the brand's most beloved tropes albeit with fresh eyes: black and white ankle-skimming dresses with flashes of tie dye peeking out from origami folds, suit jackets open to the navel and cinched with leather ties, a fleece hoodie styled with a leather circle skirt, talismanic jewellery, leather slouchy cone heel boots. Acknowledging the maturing of the brand's tenure, the clothes too reflected a grown-up air, brandishing a professionalism in pieces such as the subdued suiting that referenced 90s working woman silhouettes with waisted long-line jackets and tapered trousers. TMS
Sandy Liang
Sandy Liang indulged all of our high school fantasies by presenting a composite of her dream school girl – a quintessential mix of sweet and toxic, wrapped up in one perfectly tied ribbon. The collection, an ode to uncovering the beauty of the everyday, was staged within the library of the New York Academy of Medicine. The vestiges of youth and school hall memories, such as sailor collars, puffer vests, mini ruffled skirts and quilted jackets trimmed in faux fur, were fused with more elegant elements, such as bell sleeves, tented tunic shapes, ruched tulle bodices and romantic lace dresses. Realised in a saccharine palette of frosty whites, blush pinks and a jolt of lipstick reds, the collection's sweetness was undercut by sexy shrug bralettes, long low-slung skirts and cargo trousers with trailing ribbons for a strong contemporary appeal. Liang's highly popular square-toed pointe shoes were joined by comparatively utilitarian footwear from a new collaboration with Salomon. PRK
Dion Lee
Dion Lee's provocative take on gender-fluid dressing took on a refreshed sensuality with new experimentations with opacity and texture. Lee's appreciation of the body's anatomy was accentuated by his emulation of reptile scales, interpreted through diamond-shaped hardware embellishments, distressed peeling leather, ripped denim and serpent-like shibori. Applied onto second-skin pieces that clung to the bodies of both female and male models, there was a feeling that the garments were being shed like a snake's skin as asymmetric, winding silhouettes draped off the shoulders and hips. Eveningwear in slinky jersey and intricate beading – actually constructed from strings of ball chains – exuded a delicacy while still remaining true to the brand. Rounded out by translucent inflatable puffer jackets and high-collar shearling leather bikers, Lee proved his control and mastery of his stylistic signatures, while showcasing an ability to evolve season on season. PRK
Rodarte
The sisters behind Rodarte, Kate and Laura Mulleavy, proved their memorable brand of dark romance was alive and well with a glittering presentation set within the historic Williamsburg Savings Bank building in Brooklyn. Once past the historic threshold, visitors were met by an epic, candlelit banquet scene, with furniture, candelabras and an elaborate feast entirely encrusted in silver glitter. Against this dream-like backdrop, models strode out in a sequence of black, gothic gowns made from crystal-encrusted jersey, crushed velvet and intricate lace, with trailing, elaborate trains to match. These vampiric visions soon gave way to a folkloric fantasy, seeing metallic lace gowns topped with oversized 80s-style fringe collars made from tinsel, and worn with elven earpiece jewellery and crowns. Aside from the mostly black dresses, the essence of Rodarte was captured in some of the collection's final looks – web-like knitted gowns, psychedelic dresses festooned in tulle ruffles, and rainbow-beaded fringe gowns paired with black velvet shrugs featuring exaggerated sleeves. In sobering times, Rodarte proves that there's still room to dream. PRK
Collina Strada
Collina Strada's Hillary Taymour continued to push the boundaries of fashion with a vibrant and feral-leaning presentation. The collection, named 'Please Don't Eat My Friends', was dedicated to amplifying the interconnectedness of all living things on earth. Based on this non-linear, non-hierarchial view, Taymour put together a typically eclectic collection which celebrated the playful as much as the practical. Sustainable and recycled materials were shaped into fantastical forms; mesh pieces were decorated with gecko prints and mixed with biodegradable satin gowns, featuring arching shoulder horns, voluminous plant-based silk button-ups and tunics. Hoodies and low-slung trousers, meanwhile, were cut from deadstock cotton and jacquard. Knitwear, always a highlight, was made this season in collaboration with sustainable Italian brand Vitelli, and ranged from hats to duster coats, all in an intricate plaid. The show also coincided with the launch of the label's collaboration with Vans, which saw classic styles decorated with hand-drawn illustrations in shades of fiery shades of pink and luminous green. PRK
Stay tuned for more from New York Fashion Week A/W 2023.
Tilly is a British writer, editor and digital consultant based in New York, covering luxury fashion, jewellery, design, culture, art, travel, wellness and more. An alumna of Central Saint Martins, she is Contributing Editor for Wallpaper* and has interviewed a cross section of design legends including Sir David Adjaye, Samuel Ross, Pamela Shamshiri and Piet Oudolf for the magazine.