Satoshi Kondo on continuing the design legacy of Issey Miyake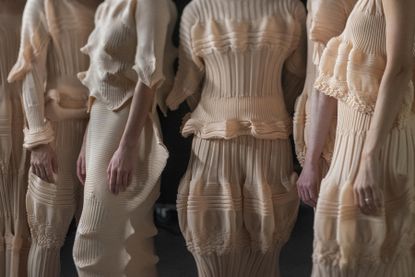 (Image credit: Courtesy of Issey Miyake)
On each of the seats at Satoshi Kondo's S/S 2023 show for Issey Miyake – held this past September at Paris Fashion Week S/S 2023 – was a piece of washi paper, a traditional form of paper from Japan which is handcrafted from the fibres of the gampi tree or mulberry bush (such is washi's cultural importance, it is Unesco-protected). Washi has been utilised for over 1,000 years as a fabric for clothing, particularly in northern Japan – its construction means it is far stronger than regular paper – and the late Issey Miyake was captivated by it in his lifetime, utilising its unique fibres in his collections, mixed with polyester or cotton to create innovative new fabrications. Indeed, the designer's fascination with washi speaks to his wider pioneering approach: the marriage of the traditional and the modern, handcraft with innovation, the ability to begin with a simple square of paper and end with a bold new proposition for fabric, texture or form. Washi paper is also traditionally used for origami, another historic Japanese art form which captivated Miyake, and to which his sculptural, intricately folded clothing has often been compared.
The S/S 2023 presentation was the first since Miyake died aged 84 this past August. As such, the piece of paper was embossed with words of tribute from head designer Kondo (who took the role in 2019, having worked at the brand since 2007) and the rest of his design team, while Miyake's portrait was projected around the Porte de la Villette space prior to the show's start. The collection itself looked towards the idea of 'soft sculpture', 'kneading, carving, and shaping' the garments in a way which recalled Miyake's own command of body and silhouette. 'Every collection I [have] created with my team is a reflection of what we learned from Miyake,' Kondo says.
Here, in a conversation in the weeks after the show, Kondo speaks to Wallpaper* about Miyake's enduring, ever-present influence and attempting to capture the same 'unprecedented joy and wonder' in his own collections.
Satoshi Kondo on Issey Miyake S/S 2023
Wallpaper*: This was the first show since Issey Miyake's death. How did you want to pay tribute to him with this collection, and show?
Satoshi Kondo: Every collection I [have] created with my team is a reflection of what we learnt from Miyake, as his philosophy and approach to design and making is the foundation of the brand's identity and the source of inspiration for my [own] design work. Moving forward, as we have always done in the past, we will challenge ourselves to create original, unprecedented clothing that brings a sense of joy and wonder – building upon what is true to the brand's identity.
For this show in particular, we put our thoughts into words in memory of Miyake and embossed them on a piece of hand-crafted washi to be handed out to the audience.
W*: Were there elements of the collection where you were particularly thinking about Miyake?
SK: I think his influence is present everywhere, permeating through the collection, in the way we engaged with design and making – from concept research and material development to the execution of the show – in a comprehensive way, just like Miyake did. For this collection, we made a series called 'Torso', where we went through the process of making torsos out of clay by ourselves and then translating them into garment forms, each to be made with a single piece of fabric, with the intention to explore original clothing [that is] like soft sculptures worn on the body.
W*: Tell me a little bit more about this idea of sculpture in the collection – how does this feature in the garments?
SK: We wanted to work with sculptures, not only the idea but the actual creative process of sculpting, because we believe that working in a creative field other than clothing design and with a different medium allows us to develop original ideas and forms. For this collection, we imagined garments that are alive and breathing like soft sculptures. Like our sculptor counterparts who all have their takes on what a torso is, we too explore the idea of body and its relationship with a piece of clothing.
W*: There were some technical fabrics which were new for the brand this season. Can you tell me about them, and how they feature in the collection?
SK: The knit series 'Linkage' and 'Assemblage' employ a technology that produces a seamless knit garment from the machine, finished and ready to wear without additional sewing. While the technology itself is not new, the way we worked with the knit engineers to explore new and creative use of the technology is original, where we created garments that each integrate a variety of knit structures. At the show, the models and the dancers conveyed a sense of liveliness in knit garments like breathing sculptures, as they bounded and danced on the stage.
W*: Why did you choose to have dancers at the show?
SK: The idea of a wearer's body is what underlies [what] we do at Issey Miyake. For the finale, the idea was to convey this sense of physicality – something that is sensuous and primitive – through dancers wearing garments in colours of a variety of skin tones, as they dance against a backdrop of dawning daylight. With this we also wanted to, as written in the quote on the washi, bring a sense of joy and hope to the audience.
W*: Tell me a bit more about this idea of joy and hope – as well as playfulness, which you mentioned in the quotation you released prior to the show. How did these ideas figure in the collection itself?
SK: We design and make garments for a sense of ease, and it is this sense of ease that we believe brings about joy. Playfulness can be present in the design and making of a garment itself, like how we play with many knit structures in the 'Linkage' and 'Assemblage' series and how they seemed to prompt the models and dancers to move and bound around.
Playfulness can also lead to wonder. It is about designing and making a garment that does not look one, especially when laid flat, and it is only the moment when you pick the garment up and put it on that you become aware of it being wearable.
Receive our daily digest of inspiration, escapism and design stories from around the world direct to your inbox
Jack Moss is the Fashion Features Editor at Wallpaper*. Having previously held roles at 10, 10 Men and AnOther magazines, he joined the team in 2022. His work has a particular focus on the moments where fashion and style intersect with other creative disciplines – among them art and design – as well as championing a new generation of international talent and profiling the industry's leading figures and brands.