Why Federico Cina returned to rural Italy to start his fledgling menswear label
LVMH Prize-nominated designer Federico Cina draws inspiration from the history and craft of the Emilia-Romagna region in Italy, where he grew up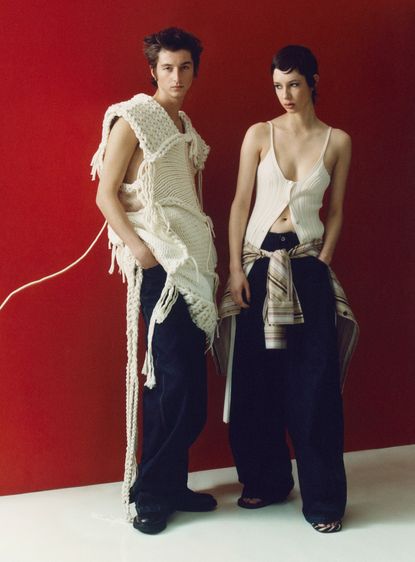 (Image credit: Photography by Grace Difford, fashion by Nicola Neri)
As seen in the March 2023 Style Issue of Wallpaper*, we meet six rising stars – including Federico Cina, featured here – tearing up the catwalks of the Milan fashion scene with a fresh energy and creative spirit.
Sarsina is a small village of 3,000 residents located in the Emilia-Romagna region of Italy, with Rimini to the east and Florence to the west. This is where the young designer Federico Cina was born, and to where he returned after living around the world prior to founding his fledgling menswear brand.
Cina speaks from his recently upsized studio, where sewing machines populate large wooden desks and mood boards hang on the walls. 'It reflects my tastes: super clean, totally white and tidy,' he says. Here, Cina works with his business partner and childhood friend, Stefano Buldrini, who oversees administration and finance, and a team of four who work across design, textile research, pattern-making, production and PR.
Although a young brand, the expertise housed within the four walls in this small corner of Italy stretches far and wide. Cina studied at the prestigious Polimoda in Florence (alumni include Marni's Francesco Risso and Jil Sander's Lucie and Luke Meier), going on to apprentice for Brooks Brothers and Emilio Pucci while still a student, living in New York and Milan respectively. Meanwhile, Buldrini studied economics in Bologna, took a masters in finance in Rotterdam, and worked in Milan for several years. While Cina says the experience of working at other labels taught him a lot, the idea of starting his own line was never far from his mind. 'I knew it was just a matter of time,' he admits. This expertise has already won him the Rome talent scout award Who's On Next in 2019, and a nomination for the LVMH Prize in 2021.
Cina returned to his hometown in 2018, to start his business the following year in the neighbouring city of Cesena. 'Emilia-Romagna is my safe place,' he says. 'The time and the many experiences outside my region allowed me to understand how much I'm connected with my homeland and its values.' He knew his off-grid choice would come with challenges. 'I was aware of the difficulties associated with launching a brand while remaining in Cesena, but I'm happy to be here because it allows me to better remember my past, all the experiences and memories that I include in my collections.'
One reason for returning to Emilia-Romagna was to support its ecosystem: 'creating well-being and opportunities for businesses, artisans and people of our land,' as he puts it. 'We source and work with local suppliers, some of whom literally have their factories five minutes away from our headquarters.' Cina also partners with local artisans on certain details, such as Antica Stamperia Marchi, a historic 1633 printing house, which prints by hand using original wooden moulds typical of the region as well as sustainable natural colours.
The cultural heritage, craftsmanship and landscapes of Emilia-Romagna appear directly in his work. 'All the details I internalised living here are now in my projects,' he says, such as the grape, a symbol typical of prints from the region. In his S/S 2023 Salsedine collection – one in which he shared personal and emotional reflections experienced since returning home – he references childhood memories of Adriatic beaches and marine colonies. 'The rediscovered values are the ones also included in the brand: humanity, the need to return to a simple and genuine beauty; the charm of the little things; and the freedom of oneself by the superstructures that society often imposes on us. This aspect comes through in the use of transparencies, corrosive effects, and deconstructed and recomposed garments.'
Cina describes his brand as 'nostalgic and romantic… reinforced by the colours and shape of the garments, which support the storytelling of each collection and allows the audience to create a deep connection with our work and values.' He shows at Men's Fashion Week in Milan – an important opportunity to meet journalists, buyers, influencers and a broader audience – but has recently been experimenting with womenswear pieces and considers his design genderless. 'I think gender should not restrict us to live the way we feel,' he says.
Models: Katie Johnson at Models 1, Wilfried and Adeline at Xdirectn, Alexander Carey-Morgan at Tomorrow Is Another Day. Casting: Svea Casting Hair: Tosh at Streeters. Make-up: Jimmy Owen Jones at Julian Watson Agency using Dior Forever Foundation and Capture Totale Super Potent Serum. Manicure: Cherrie Snow Set design: Lizzy Gilbert. Photography assistants: Max Glatzhofer, Benedict Moore. Fashion assistant: Stoyan Chuchuranov. Set assistant: Aliou Janha Hair assistant: Leanne Millar.
A version of this story appears in the March 2023 Style Issue of Wallpaper* (opens in new tab) available now on the Wallpaper* app on Apple iOS, and to subscribers of Apple News +. Subscribe to Wallpaper* today (opens in new tab)
federicocina.com (opens in new tab)
Tilly is a British writer, editor and digital consultant based in New York, covering luxury fashion, jewellery, design, culture, art, travel, wellness and more. An alumna of Central Saint Martins, she is Contributing Editor for Wallpaper* and has interviewed a cross section of design legends including Sir David Adjaye, Samuel Ross, Pamela Shamshiri and Piet Oudolf for the magazine.
With contributions from