Steinway & Sons sets the tempo for innovative piano design
Steinway & Sons' innovative piano design spans from a Luca Nichetto collaboration showcased at Milan Design Week 2023 to a masterpiece of self-playing engineering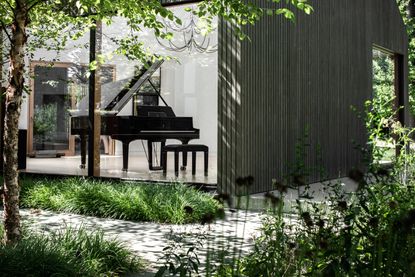 (Image credit: Courtesy Steinway & Sons)
Steinway & Sons has been making the finest pianos in the world since 1853 –meticulously handcrafted by skilled artisans to the highest standards, with each piano taking around a year to create. Today, Steinway remains at the forefront of piano innovation in both design and technology. Its offering spans from high-profile collaborations with artists and designers to the masterpiece of self-playing engineering that is the Steinway Spirio.
During the recent Milan Design Week 2023, at the city's Mohd interior design showroom, the company presented the Steinway Gran Nichetto – designed by Luca Nichetto – in Europe for the first time, following its launch in the US in November 2022.
Venice-born Nichetto was inspired by the elegant contours of a gondola, with its dynamic lines and graceful sculpting, and the piano features accents in metal and Italian leather. Four years in the making, the piano is the first to emerge from his multidisciplinary Studio Nichetto, known for its furniture, product and architectural projects, and its collaborations with the likes of Hermès, Cassina, and Ginori 1735.
Steinway Spirio 'self-playing' piano
Still at the technological forefront since its launch in 2015 is the Steinway Spirio, a high-resolution player piano, a masterpiece of engineering that enables you to enjoy the work of great pianists as if they were playing in front of you. One of the main priorities in developing Spirio was to emulate performances with a level of nuance and precision that would allow recordings to be indistinguishable from a live performance, and the piano represents an amazing musical experience.
Every Steinway Spirio is presented with an iPad mobile digital device preloaded with a carefully designed app that provides access to a fantastic music library. Regularly updated, the Spirio playlist features music by more than 1,800 pianists, spanning the works of artists from Beethoven to The Beatles.
Why, you may ponder, would you not simply fill your home with exquisite piano music through state-of-the-art speakers? Because here you have the incomparable acoustic quality of a Steinway Grand, not to mention the beauty of the piano itself.
'Self-playing' pianos, as they are known, have been around since the late 19th century, but Steinway has taken the notion to another level. While the sight of piano keys playing by themselves is undeniably thrilling, the Steinway Spirio is much more than an extravagant party trick. In the first place, this piano is still a traditional classical instrument that you may play yourself, but a layer of extraordinary technology offers new realms of possibility for playing music at home; it enables recording, editing of performances, and connectivity for sharing music.
Spirio is also the world's finest high-resolution player piano capable of live performance capture and playback. Effectively, you have access to concert pianists playing your Steinway in your own home in real time. Lang Lang, a Steinway artist and Spirio ambassador, has commented: 'Buying a piano does not have to mean waiting for a pianist to play it at home. It's a major leap, a milestone – with superb craftsmanship.'
A celebration of classical and contemporary design
Steinway pianos are, says the company, the choice of nine out of ten concert pianists as well as countless professional and amateur players. The company's limited editions created with artists and designers make for pianos that honour the company's history and tradition in combination with contemporary style. As well as Nichetto, Steinway has previously teamed up with recording artist and designer Lenny Kravitz, to create the Kravitz Grand Limited Edition.
Melina Keays is the entertaining director of Wallpaper*. She has been part of the brand since the magazine's launch in 1996, and is responsible for entertaining content across the print and digital platforms, and for Wallpaper's creative agency Bespoke. A native Londoner, Melina takes inspiration from the whole spectrum of art and design – including film, literature, and fashion. Her work for the brand involves curating content, writing, and creative direction – conceiving luxury interior landscapes with a focus on food, drinks, and entertaining in all its forms