Royal Salute unveils Pedro Ximénez sherry cask blend
For the first time, Royal Salute has finished its whisky in the finest Pedro Ximénez Sherry casks from Spain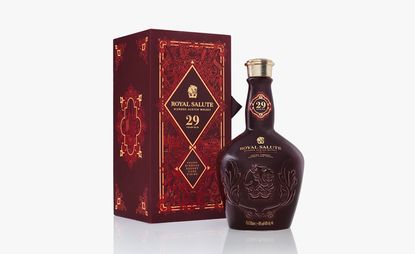 (Image credit: Royal Salute)
The whisky collector's radar has seen some exciting activity recently, as Royal Salute unveils a sherry cask expression for the first time in their history: Royal Salute 29 Year Old Pedro Ximénez Cask Finish.

The heritage brand believes in the value of investment in innovation, and of bringing premium whisky into the 2020s and beyond. Creating this unique expression was an adventure undertaken by Royal Salute's master blender, Sandy Hyslop. A lengthy and expensive process whose every detail was attended, starting with the wood of the casks. They are custom made from Spanish oak, dried for 18 months and then conditioned for two years by filling them with Oloroso sherry, which takes the tannins out of the wood, and is then removed.
The sherry that actually flavours the casks is exceptional in itself — dark, viscous, and nectar-like. In turn, not every whisky could stand up to the lively influence of Pedro Ximénez, so the Royal Salute 27 year old blend was carefully chosen to be finished in the Pedro Ximénez casks, and a beautiful match was made. As Hyslop points out, 'the casks amplify the complexities and delicate balance of the blend.'

The maturation process was closely monitored to ensure that the whisky remained in the sherry casks for exactly the right amount of time to achieve perfectly pitched notes of the sweet spiciness that sherry cask brings to the whisky. It was checked every four weeks, and after around 18 months, deemed perfect — a unique blended malt with a Spanish influence.

The classic Royal Salute signature style is there at the heart of the whisky, with treacle toffee and plump dried fruit, and Spain comes with its marmalade and chocolate almonds, liquorice and sandalwood.

Cases of Royal Salute Pedro Ximénez 29 are to be counted in the hundreds rather than the thousands. There are less than 500 cases worldwide: a multi-layered sensory experience that is a true collector's item.
INFORMATION
royalsalute.com (opens in new tab)
Melina Keays is the entertaining director of Wallpaper*. She has been part of the brand since the magazine's launch in 1996, and is responsible for entertaining content across the print and digital platforms, and for Wallpaper's creative agency Bespoke. A native Londoner, Melina takes inspiration from the whole spectrum of art and design – including film, literature, and fashion. Her work for the brand involves curating content, writing, and creative direction – conceiving luxury interior landscapes with a focus on food, drinks, and entertaining in all its forms