Alain Ducasse at The Dorchester: absolute attention to detail
Chef Alain Ducasse helps usher in a new era for the historic Dorchester hotel, London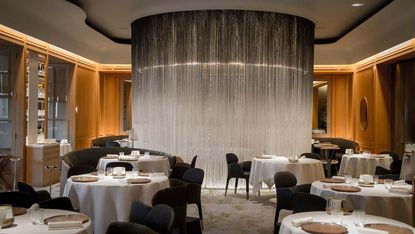 (Image credit: The Dorchester )
The Dorchester hotel is a titan of the London hotel scene that has stood at the heart of Mayfair since 1931, when it quickly became a byword for luxury and glamour.
The Dorchester has recently undergone an extensive refurbishment, and like a giant awoken from a nap, has emerged reinvigorated with a glorious redesign that does full justice to its art deco grandeur and heritage.
The Grade ll-listed building provides a magnificent setting for a selection of bars and restaurants, not least Alain Ducasse at The Dorchester. The celebrated and pioneering French chef has held a total of 21 Michelin stars throughout his career, three of which adorn his restaurant at The Dorchester, and he is a significant presence there.
The restaurant occupies a large and lofty space on the ground floor, accessed through The Dorchester's main entrance and the opulent Promenade room. Designed by duo Jouin Manku (who have collaborated on Ducasse Paris projects in Paris, Monaco and Las Vegas) the interior draws inspiration from nearby Hyde Park, with wood, leather and textiles in soft natural shades that create an elegant, beautifully lit, and deeply comfortable space.
Within the main dining room, 'La Table Lumière' makes a shimmering focal point. This stunning table seats up to seven guests and lets them enjoy the ambiance of the restaurant while being screened from view by a dramatic luminescent oval curtain –4,500 optical fibres that drop from the ceiling to enclose the diners in glittering light.
A choice of tableware is used exclusively for La Table Lumière – a luxurious collection of Hermès china sets, Puiforcat silverware and Saint-Louis crystal. The restaurant seamlessly merges tradition with modernity and sets an ideal scene in which to appreciate Alain Ducasse's globally revered cuisine.
Chef Jean-Philippe Blondet interprets Alain Ducasse's contemporary French cuisine in London; having worked alongside the revered chef for over a decade, he became executive chef at Alain Ducasse at The Dorchester in 2016. Blondet has a particular understanding of the fantastic possibilities of seasonal vegetables and has created an innovative menu that uses them as the star ingredient, with fish and meat as perfectly pitched supporting acts.
His cooking features the freshest produce, sourced from British and French suppliers for their quality, provenance, and exquisite flavour. Each dish is flawlessly balanced and beautifully presented; Cornish turbot, Jerusalem artichoke, watercress, black truffle and hazelnut is a signature dish, with Denbighshire venison also a feature, and Java chocolate with whisky – strikingly offered in a cacao pod.
With absolute attention to detail, the warm hospitality at Alain Ducasse at The Dorchester has been considered and executed with a finesse that places the pleasure of its guests and their enjoyment of exceptional food and wine at its heart.
dorchestercollection.com (opens in new tab)
Melina Keays is the entertaining director of Wallpaper*. She has been part of the brand since the magazine's launch in 1996, and is responsible for entertaining content across the print and digital platforms, and for Wallpaper's creative agency Bespoke. A native Londoner, Melina takes inspiration from the whole spectrum of art and design – including film, literature, and fashion. Her work for the brand involves curating content, writing, and creative direction – conceiving luxury interior landscapes with a focus on food, drinks, and entertaining in all its forms