Form and function: W* discusses 'The Nature of Motion' with Nike's John Hoke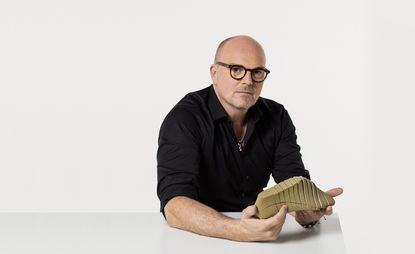 (Image credit: TBC)
After more than a decade spent as spectators at Salone Del Mobile, the Oregon-based Nike design team has finally decided to make its own contribution to Milan Design Week.

For its spectacular debut project – 'The Nature Of Motion' – Nike's vice president of global design, John Hoke, invited ten progressive, contemporary designers including Sebastian Wrong, Martino Gamper and Max Lamb to explore natural motion through various mediums. Some works are conceptual, foreshadowing future technologies, while others are more practical. In many cases, materials unique to Nike, such as Flyknit, have been applied. The project's intention is to illustrate the potential of the human body through a synergy of form, function and motion. Nike's obsession with 'natural motion' persists and with each innovation, the gap between product and body lessens.

The unique collaborations – which variously reference, heat, energy, light, lightness, movement, rest, rhythm and percussion – are housed in a vast industrial space (100m down the road from the Fondazione Prada, south of Central Milan) transformed into a sensual, experiential Nike journey. From huge video installations and touchy/feely synthetic horticulture, to kinetic sculpture, drum kits and outlandish shoe prototypes, each collaborative exhibit is separated by sweeping white walls, constructed by hand from thousands of Nike shoe box bricks.

Wallpaper* sat down with John Hoke to discuss the genesis of the project, handpicking designers and the company's obsession with form and function.

W*: The shoe box walls are a bonafide sculptural wonder. How many Nike shoe boxes were used exactly – and how did they get here?
JH: I think there are between 20,000 and 25,000 boxes. Let's just say it's a lot.

You trained as architect and sit on the board at Herman Miller, so Salone del Mobile has long been on your radar, but why is it important for Nike to be at Salone in among all the furniture and kitchens?
The Nike team has come to Salone for many years as observers and we felt, because of the nature of the focus on design and creative excellence, and unique innovations, it was time that we presented something ourselves. For us, 'The Nature of Motion' is a discourse, a point of view – a dialogue with the city of Milan and its assembled, creative minds. It's our position. The exhibit is focussed on three things: collaboration, sports innovation and the notion of imagination. To begin to get a glimpse into the not too distance future, showing where we think the world of design is going.

The exhibition has been two years in the planning, right?
Yes, almost two years. But really, this is a journey we've been on for 40 years and it's a journey that is never complete. It's a pursuit of thinking about how we study the body, how we create products – footwear, clothing etc. Our mission is to create a symbiotic, one-on-one relationship that is in perfect harmony with the body in motion. Where the athlete is free from distraction. It's dynamic design; we operate on the principle that if we can design a cohesive system that works together, we can effectively reduce or eliminate all meaningful distractions and allow the athlete's mind and body to focus solely on performance.

Some of the conceptual pieces in the exhibition are pretty wild. As outlandish as they are, do you see some elements or design details of those concepts becoming integrated into Nike production models in the future?
The concepts take us to the edge of what's possible. It's all about letting your dream of design overtake your logic of design. What I see are glimpses in those exhibits, details and ideas that will begin to point us in certain directions in the future. Many of them deal with the sensation of sending signals up through the body via the soles of the feet and that is something that is very fundamental to us at Nike. Yes, some of the shoes are absurd – but if you are honest as a designer, dreaming unencumbered by logic is the right way to be.

How did you arrive at the collection of collaborative talent for the exhibition?
They are all people with whom we believed we could engage and exchange, people who could challenge us and vice-versa. They are helping take us someplace new, helping us with our dialogue.

What brief did you give the collaborators exactly?
The brief was pretty simple; help explore and abstract, and question and challenge the notion of mobility, motion and movement. Each piece is a unique exploration, a piece of poetry expressed either by form and surface, scale, equilibrium, the nature of gravity or rhythm, of how the body reacts to heat and cool – all of which happen to be narratives synonymous with the narratives of athletes, by the way. Each one has taken us into a different vein of thinking.

Away from nature, what else has influenced the Nike design team recently?
Nature and the body is always a foundational thought for us but we will study anything that moves… anything that has intentional motion that involves power and grace. Recently, we went to Kyoto to study the intention of craft and how craft works with nature. We've also visited lots of different engineers, artists, designers. We are wide open – we have spent time with zoo keepers, to look at animal movement, with couturiers, tailors, automotive designers. Even Google.

You talk a lot about 'performance and beauty'...
At Nike we are problem solvers – function. And we are taste-makers – beauty. And we believe that the unique juxtaposition and harmonising of those two ideas is Nike's distinct advantage. We don't sacrifice either beauty or function. For us, the goal is goose bumps, a visceral reaction to something beautiful, because the best design should captivate at first glance We want to make iconic, hypnotic products so that people will be inspired by the form and surface, but also thrilled by the intention and function. The perfect balance of art and science. When we do it really well, it's hard to know where one starts and the other stops.
INFORMATION
'The Nature of Motion' is on view until 17 April. For more information, visit Nike's website (opens in new tab)
ADDRESS
Via Orobia 15
20139, Milan
VIEW GOOGLE MAPS (opens in new tab)