A designer's universe: Vitra opens first Alexander Girard retrospective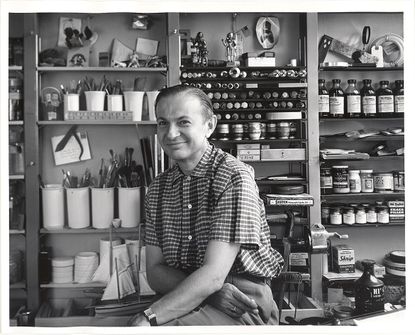 (Image credit: Charles Eames)
Until now, Alexander Girard's work has been relatively unknown – certainly when compared to the fame of his contemporaries Charles and Ray Eames, Isamu Noguchi and George Nelson, say – but that is soon to change as the American interior and fabric designer's oeuvre is celebrated at the Vitra Design Museum.

'Alexander Girard: A Designer's Universe' is the latest exhibition to take up residence in in the Frank Gehry-designed building, filling its curved walls and multiple spaces with the vibrance, colour and sense of joy that characterised Girard's work.

Curated by Jochen Eisenbrand and designed by London-based studio Raw Edges, the display chronicles the life and work of Girard, starting with his early beginnings in architecture; to his bright and bold textiles for fabric giant Herman Miller; his spirited, 'living' interiors and restaurant concepts; and his extensive folk art collection.

'We normally showcase around 300 items in an exhibition like this,' explains Eisenbrand, 'but here have over 700.'

Taking on the challenge of presenting so much at once in a calm and collected manner were Shay Alkalay and Yael Mer of Raw Edges. As Eisenbrand explains, it was no simple feat: 'Girard did many exhibitions himself and was a master of displaying things, so it was a high level that one had to match.' But match it they did.

The 3D mural, the banners of hanging fabric, a series of alcoves and the idea of a 'room within a room' – all classic Girard motifs – are all seamlessly incorporated. As are colour, pattern and ornament, the three tenets of Girard's practice.

'There is so much going on, but the connections are what were really important for us [to show],' explains Alkalay. 'You can see how [his folk art collection, for example] would inspire one project and then developed into other ideas and come back again and again.'

'It is a dense amount of information,' says Girard's grandson Kory of the undertaking, 'but it doesn't feel "packed" or look "crammed" because there are so many layers.'

Dense is putting it lightly though. Girard was nothing if not prolific, and his attention to detail was beyond outstanding. The phrase 'ahead of his time' may as well have been created for him, too. He created 'themed restaurants' long before they were in vogue, he brought colour and style to the skies through his work with Braniff Airlines, and made the home a joyous place at a time when design was all about reductionism and rationality. He celebrated what we now refer to as the 'maker's culture' and 'post-industrial processes' long before the terms were coined or debates had. He sought a humanist agenda, celebrating a universal common bond that still holds true today. And perhaps it is because of that foresight, that vision, that this exhibition is so rewarding.

In another first for Girard, a 500-page catalogue published to accompany the exhibition provides the first scholarly examination of his work. All in all, it is a fitting celebration for a man who restored what classical modernism had rejected in design and combined ostensible antagonists (craftsmanship and industry, pop culture and high art etc) with both ease and flair.
INFORMATION
'Alexander Girard: A Designer's Universe' is on view until 29 January 2017. Catalogue from €69.90. For more information, visit the Vitra Design Museum's website (opens in new tab)
ADDRESS
Vitra Design Museum
Charles-Eames-Straße 2
79576 Weil am Rhein
VIEW GOOGLE MAPS (opens in new tab)