Unique Design X Group champions next-generation designers in Miami
Nomadic design fair Unique Design X Group made its Miami debut in December 2021 with a dynamic, multicultural group of designers presented in the spaces of OMA's Faena Park building, and with an outdoor skate park installation by Yinka Ilori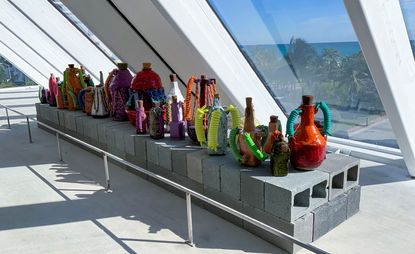 (Image credit: press)
At the Faena Park building in Miami Beach, Unique Design X Group offered a dynamic show, with a multicultural group of designers, for the nomadic boutique fair's fifth edition (and inaugural presence in Miami). Faena Park, with its distinctive, perforated concrete façade, was designed by Pritzker Prize-winning architect Rem Koolhaas and his studio OMA, as a state-of-the-art parking structure, forming part of the Faena District. The building's industrial qualities and vast open floors were a perfect setting for the community of designers and galleries presenting at one of the highly anticipated events of Miami Art Week (opens in new tab).
Unique Design X Group in Miami
For its Miami debut, the female-founded collective behind Unique Design X Group wanted to focus on three complementary experiences – indoor, outdoor, and live events. For the indoor show, 'A New Space Age', a pool of 17 international creatives all from the X,Y, Z and millennial generations and represented by six galleries, showcased sustainable designs in a variety of mediums and styles.
For the outdoor intervention, British Nigerian artist Yinka Ilori, in partnership with Tony Hawk's The Skatepark Project, designed a colourful and captivating skate-able obstacle course in the adjacent park, which was also used to host live events.
With a mission statement centred around sustainability, diversity, equity, and inclusion, the Unique Design X Group collective uses upcycled materials and reuses scenography elements for its shows, as well as contributing to communities through charitable workshops and live events for under-priviledged youth.
This was a show with both mission and style, perfectly on message for the tail end of 2021. The featured galleries – Nilufar, Etage Projects, 193 Gallery, Functional Art Gallery, GAD, and Art Deco Shanghai – contributed a feeling of global community and one-ness. Together with Unique X Design Group, they worked closely with each of their artists, helping them build immersive worlds in their respective installations.
On entering the Faena Park foyer, visitors were met with an installation from GAD gallery and Greek artist Andreas Angelidakis, of printed fabric foam blocks shaped like classical ruins and spread over a bright orange carpet – a futuristic take on the classical motif.
Once in the main exhibition floor, the myriad multidisciplinary art offerings starkly popped from within the white warehouse-style space. French designer Théophile Blandet, who challenges the notion of functionality, designed a geometric wooden chair with a light panelling structure and mechanical arms vaguely resembling a prison's electric chair. Meanwhile, Anna Aagaard Jensen's hyperfemme boudoir, with pink and white floral mutations, was juxtaposed against Audrey Large's pixelated objects in metallic alienesque forms.
The show highlighted the message of this diversity championing group – the essence of design and its cross-pollination of ideas is alive and well with this next generation.
INFORMATION
uniquedesignxgroup.com (opens in new tab)
Originally hailing from Puerto Rico, Maria Sobrino spent seven years with Wallpaper* as an interiors stylist. These days you can find her enjoying a dinner al fresco at her Miami MiMo apartment on Biscayne Bay, or riding her scooter around Miami in search of beautiful things, both exterior and interior.