Ron Gilad's surreal piazza honours Aldo Rossi in Milan
Ron Gilad reimagines works by Aldo Rossi in a surreal and perspective-challenging installation at the Milan showroom of UniFor, marking the brand's reissue of four key designs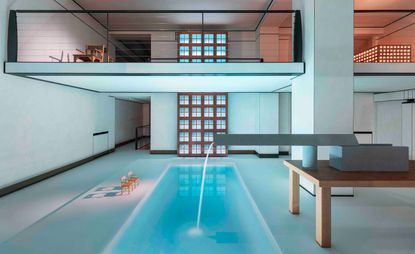 (Image credit: DSL Studio)
Contemporary office-design company UniFor has explored its past, searching through historical notes and sketches to present ArchivioUniFor, a series of re-editions under the creative direction of Studio Klass, with the inaugural project dedicated to Aldo Rossi. Presented during Salone del Mobile at the UniFor showroom, the project looks at four of the brand's key furniture designs by Rossi: the 'Parigi' armchair, 'Cartesio' bookcase, 'Consiglio' table, and 'Museo' chair.
The pieces are reinterpreted by Ron Gilad with an installation that typifies an urban piazza. 'I'm always happy to accept challenges, yet this installation was actually a tough challenge, because the pieces have been on display as table, library, chair, armchair so many times since the 1990s. That is why I wanted to find another meaning in showing them,' explains Gilad.
Designed in 1989, the 'Parigi' armchair made its first appearance in Paris, on Designers' Saturday, at the UniFor showroom on Rue des Saints-Pères. The generous shape of the 'Consiglio' table (1991 – 1994) was originally intended by Rossi for his own Milanese design studio. The 'Cartesio' bookcase, which recalls Rossi's distinctive building façades, and the 'Museo' chair, were designed for the Bonnefanten Museum in Maastricht, which the architect completed in 1995.
Aldo Rossi's UniFor classics reframed by Ron Gilad
'I wanted to look at the work of Aldo Rossi as a creator in general, not necessarily as an architect or a product designer. Nothing philosophical, I wanted to show the legacy of Aldo Rossi in a humble way, somehow still maintaining a little bit of my signature as an artist,' Gilad says.
The result is fully theatrical, vaguely surrealistic, and quite befuddling. The chairs lie in front of a large pool gently filled by a fountain – a petrified ode to Rossi's Monument to the Partisans in Segrate, Italy – that is set on the 'Consiglio' table. The 'Cartesio' bookcase stands at the side of Gilad's piazza, architectural and imposing, while Rossi's Cemetery of San Cataldo, in Modena, is referenced in an evocative lighting sculpture.
'Overall, my idea was to recreate an urban piazza where a person wandering around doesn't necessarily understand the scale of things. 'I decided to look at Aldo Rossi's work not only considering his products but also his architecture. He played a lot with scales, volumes, and proximity and I tried to find a kind of parallel world lying in between,' says Gilad. 'I took some elements from his architecture, and I changed their scale, to place them in dialogue with the products.'
The view from the large showroom windows is inspiring. 'I considered people passing by in the street. It's much more magical by night than during the day, as it's much more magical without people than with people.'
INFORMATION
unifor.it
ADDRESS
Corso Giacomo Matteotti 14, 20121 Milan
VIEW GOOGLE MAPS (opens in new tab)