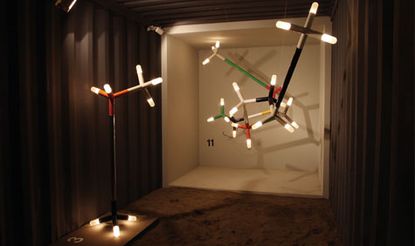 (Image credit: TBC)
'Love' was the theme of the 23rd annual Tokyo Designers Week (30 Oct – 3 Nov), and there were plenty of creations to fall head over heels for among the more than 500 exhibitors.
See more highlights from Tokyo Design Week (opens in new tab)
Unlike many events on the international design calendar, Tokyo takes design to the people, with key fairs 100% Design in the Aoyama district and Design Tide in Roppongi, drawing close to 100,000 visitors, while over 100 smaller locations across the city draw further crowds to their mini-exhibitions.
100% Design, the main draw, consisted of three vast exhibition tents and combined big names (Shin Azumi, Peter Liversidge, Michael Young) and big companies (Toto, Sony, G-Star (opens in new tab), to name a few), with the nation's top design universities and emerging talents.
But it was the smaller Design Tide ¬- that truly came of age this year. Young designers with a big future were out in force and, as if to help them along, some of the most revered names in Japanese design joined the party. The father of Japanese design, 97-year-old Riki Watanabe not only exhibited, but came to speak. Add to that new works by Tendo Ply, Final Home, Sfera and Kenzo (opens in new tab), as well as the fabulous new venue, and it was plain to see that Design Tide is going from strength to strength.
There may well be a global economic crisis but going by the shows and after-parties at Tokyo Design Tide – it seems Love can in fact conquer all.