Class values: the Ulm School's singular approach to product design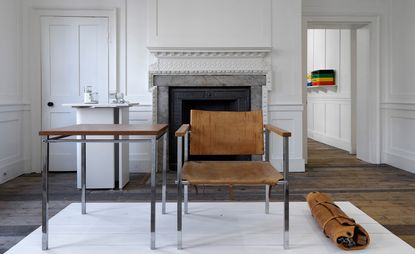 (Image credit: Marcus J Leith)
A pioneering approach to product design cultivated in southern Germany 60 years ago is still having an impact today. The goal of Hochschule für Gestaltung Ulm (HfG) – the Ulm School of Design – was to train designers for a new mass culture. 'From the coffee cup to the housing estate,' as Max Bill put it.

Along with his co-founders Inge Scholl and Otl Aicher, Bill – who designed the school building – championed an interdisciplinary and systematic approach to design education. The reputation of the Ulm Model quickly spread, and this way of teaching has since become universal.
Space units used as student accommodation at the Ulm School, designed by Herbert Ohl and Bernd Meurer, 1961.
As the rector Tomás Maldonado said: 'The HfG is not just a school where you are educated in a special subject; the HfG is more like a community whose members share the same intentions: bestowing structure and stability upon the world around us.'

From 1953 to 1968, the school's progressiveness was so well-respected that its students were commissioned by two of the country's major businesses. Braun and Lufthansa briefed undergraduates to create radical designs. Some of this modernist output is now on show in London's Spitalfields at the Raven Row contemporary art gallery, which was itself designed by 6a Architects.

'The Ulm Model' – as the exhibition is also titled – has been designed by London practice David Kohn Architects, and features an eclectic mix of the students' drawings, models and products including radiographs, weighing machines, traffic lights, petrol cans, bed frames and kitchenware.

Curated by Peter Kapos, lecturer at Camberwell College of Arts and director of Das Programm, a website selling classic Braun products, this is the first, overdue UK showing of the Ulm School's iconic output.
INFORMATION
'The Ulm Model' is on view until 18 December. For more information, visit the Raven Row website (opens in new tab)
ADDRESS
56 Artillery Ln
London E1 7LS