The Royal College of Art announces honorary doctorates for 2013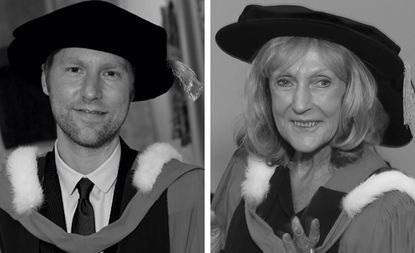 (Image credit: press)
Burberry creative overlord Christopher Bailey and artist Cindy Sherman are among those receiving Honorary Doctorates from the RCA today. Also honoured are American artist Faith Ringgold and Czech architect and interior designer Eva Jiřičná.

Yorkshireman Bailey is an RCA alumnus (opens in new tab), who graduated with a Masters in Womenswear in 1994. He is now chief creative officer at Burberry and pretty much in charge of everything creative. One of the world's most influential photographers, Sherman is known for a remarkable series of cinematic 'self'-portraits (opens in new tab) for which she creates different characters and personae. Ringgold has had a long career as painter, writer, speaker, mixed-media sculptor and performance artist. She is now one of American art's elder states-people. Jiřičná meanwhile has made her name with spectacular steel and glass staircases (opens in new tab) and her client list stretches from The Royal Academy of Arts to Selfridges.

We spoke to Paul Thompson, rector of the RCA, about this year's honorands and why these academic awards still matter...

Without being facetious, what is the point of the honorary doctorates? They are a time-honoured tradition, but what are they really for?
I think they send a signal internally, to the students, that these are the practitioners we admire and think have done exciting things; they are the people we respect and whose careers or ways of working have an incredible relevance to them.

The RCA has to be, and is, a global brand. Is this part of a brand building exercise?
Well, they do say something about the college to the outside world but really this is about internal communication.

Among this year's honorands, Christopher Bailey definitely represents a particular model of a fashion designer. Designers often get the title creative director or similar these days but Bailey really is a kind of total creative; looking over not just the collections but art direction, advertising and store design.
Yes, all of that and he also happens to be an incredible womenswear designer. But he understood the potential of the online experience too, it wasn't just a matter of 'putting stuff on the web'. And beyond that he has done it in a very nice way. This isn't negative control freakery, he is a genuinely humble, nice guy. And I think that's just as important a message to get across. You don't have to be this unpleasant diva to get on and succeed, and have a lot of control. You can do it with humility and kindness.

How much, then, is he a model that students look to and how much do you, as a college, have to respond to that with interdisciplinary courses and teaching this kind of overarching creativity?
We would never prescribe and say you have to do this or do that as well as what you are doing. These are very specialist masters courses so it is a matter of watching where the water flows and supporting them during the process. You know, there are a lot of interesting things happening with jewellery and rapid prototyping, for instance. But we would never say that all jewellery students have to now try rapid prototyping too.

But there is another model that is perhaps a bit more fluid and collaborative - less about total control and more about connectivity?
Yes, and much more is going on in the way of collaborations - fashion designers with textiles and fine artists looking into other fields.

And then there's Cindy Sherman. She's had this very particular approach and method but has somehow kept it vital and interesting for a long time. But why now?
It's always a balance, trying to cover different generations. I was one of the people very strongly in favour of Cindy. I just think she is still doing really interesting things. I saw last year's shows (opens in new tab) at Moma and then SF Moma, and had time to think between the shows and realised how influential she had been; not just in terms of portraiture but well beyond that. And particularly in this performance element to her work. So many students are using performance now. I think she also has this real appeal across disciplines. Designers really respond to her. She is a defining figure.

The RCA is unusual in placing photography squarely in the school of Fine Art. Do you think that more young photographers see fine art as a feasible option than might have done in the past?
Definitely. Just look at how the programs of galleries and museums have changed. Now they all have strong photographic programs. It wasn't that long ago that you had to go to New York to see a major photography show. And I think digital technology has been really liberating. You see a lot of the fine artists moving into film because you can do that on a high-end DSLR now. Technology is having a huge impact.

Faith Ringgold feels very much like an artist that the rest of the world has caught up with, in terms of the emphasis on story telling and craft, and locating her work within those traditions?
Well, she is another generation again. She's an African-American artist who is now part of all the major collections. And yes, working in forms that people used to think of as vernacular or low art.

Finally, can the honorands be practically useful to the college? Does the recipient just walk away with their gong or do you hope that is it the beginning of a useful relationship?
Well, we do hope they come back and do a crit and a talk to the students. And we hope that that develops into a meaningful relationship. Perhaps they become visiting lecturers. That's how things developed with Yinka Shonibare. He was given an honorary doctorate in 2010, then became a member of the council and is now Visiting Professor of Fine Art. That is the dream relationship in a way.
Christopher Bailey, who graduated with a Masters in Womenswear from the RCA in 1994, also received an Honorary Fellowship from the college in 2003. And in 2011, he was guest speaker at the RCA's Innovation Night. Watch his conversation with RCA rector Paul Thompson