Sydney showcase: three-day Side Project pop-up reveals best of Australian design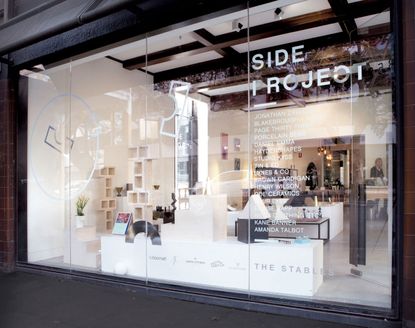 (Image credit: TBC)
While many of Europe's desginers check out of the studio for a summer hiatus in August, the design scene down-under is in full swing. In Sydney, designers and creative talents could be found showcasing the fruits of their labour at Sydney Indesign (opens in new tab) – an annual three-day programme of talks, exhibitions, collaborations, installations and product launches that take place in showrooms and pop-up locations across the city.

One of this year's not-to-be-missed happenings was 'Side Project'; a slickly-produced exhibition/retail pop-up which saw some of Australia's brightest design talents unite to present new limited edition pieces. Fusing elements of a gallery show, a retail store and a trade event into one offering, 'Side Project' took over the entire ground floor of a four-storey complex called The Stables in Sydney's Surry Hills suburb, with new conceptual and experimental work by names such as Australian LA-based artist Jonathan Zawada (opens in new tab), the prolific Daniel Emma (opens in new tab) studio and Sydney-based design duo Page Thirty Three (opens in new tab) among others.

Bianca Riggio of Page Thirty Three curated the exhibition. Presenting a new collection of lighting, furniture and accessories called Tactile Equations, she told us,

'Being a designer can at times be an isolating pursuit, I have really wanted to connect with fellow Australian designers and creatives, and 'Side Project' became a vehicle to do so. Doing projects like this gives you a new energy to keep creating.'

Other pieces on show included new ceramic lighting by Porcelain Bear (opens in new tab) and Jonathan Zawada, marble-print surfboards by Haydenshapes, graphic prints by Tin & Ed and slogan balloons by Sydney studio Brown Cardigan (opens in new tab) – all available for visitors to buy.