Create in communal comfort: Soho House opens a new workspace in East London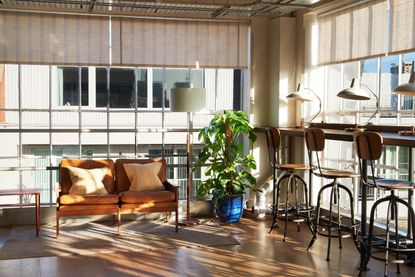 (Image credit: press)
Walk in to London members' club Shoreditch House on an average week day and, from bar through ping-pong tables-turned-work stations, through the restaurant and into the back lounge, everywhere there is the steely grey of opened laptops (always, but always, Macbooks), shoulders hunched, fingers tapping and faces gently uplit by screens. Only in the rooftop pool are laptops not on laps (The Soho House mothership remains a little more convivial).

It's a key locus of the new freelance creative economy and, always sharp on the uptake, the Soho House group has now opened a new co-working concept, Soho Works. The group took vacant space in the Tea Building, home to Shoreditch House, a couple of years ago without any definite plans for it. When more space came up, a total of 16,000 sq ft, it decided to create a proper fully-serviced working environment for the modern mobile creative and for those looking for more permanent space.

Membership options include hot-desking, a permanent desk place or even a permanent office space for up to ten (though the single person offices, complete with hat stand, looks particularly tempting). There are also meeting rooms, a library, a lounge and cafe, as a well as a kitchen for those who want to prepare their own food, printers, a photo-studio, post-production facilities, a fully tooled-up workshop if you fancy getting handy, 3D printers, retro phone booths for intimate or professional phone conversations as well as high-speed internet access, tech support, postage and couriers. And all open 24/7. It also offers a series of professionally minded talks and one-to-one appointments with 'industry experts'.

A 24,000 sq ft Istanbul branch of Soho Works will open in five converted town houses in the Akaretler district next spring, while a 22,000 sq ft LA branch will open in a mid-century office building on Sunset Boulevard soon after. The group is also set to open a 40,000 sq ft Soho Works in Clerkenwell, complete with gym, cutting and screening rooms, in spring 2017; with a similar-sized space, featuring a rooftop bar and restaurant, planned in the Fulton Market District of Chicago later that year. It is also looking for other London locations, as well as a space in Manchester and far beyond.
INFORMATION
For more information, visit the Soho Works website
ADDRESS
Tea Building
56 Shoreditch High Sreet
London, E1 6JJ