Cutting shapes: Schumacher revives vintage patterns for Frank Lloyd Wright's 150th birthday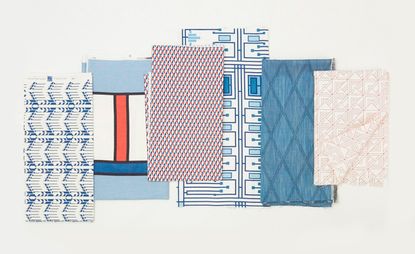 (Image credit: press)
When former HouseBeautiful editor Elizabeth Gordon introduced Frank Lloyd Wright to Schumacher decades ago, it was clear a collaboration was imminent. With a shared passion for transformational design, the father of modernism and décor company created a line of geometric fabrics in 1955.

Fast forward 50-something years, when Dara Caponigro, Schumacher's creative director, unearthed remnants of the collection shortly after she joined the company in 2013. 'It became clear it was a very important collection that had the imprint of one of the most — probably the most – important American architect,' she said. Schumacher's team reached out to Wright's foundation and again, collaboration ensued.
In honour of the 150th anniversary of Wright's birth, Schumacher resurrected its collaboration with the famed architect and designer. Here, old and new come together to pay homage to Wright's trailblazing career. While the hand-drawn designs and most of the linens and hybrid fabrics used are true to the inaugural collection, Schumacher's using a new colour palette to give the revival a timely twist. 'The colours that were used for the original collection speak to that time,' Caponigro said. 'But the designs themselves are completely transcendent, so pure, and timeless.'

Warm reds, greens, and browns of yesteryear are replaced with a subtler colour palette full of charcoals, taupes, and blues. Contemporary, but still aligned with Wright's vision. 'We used colours that still speak to the Frank Lloyd Wright aesthetic, but are more clear in tone,' said Pamela Marshall, Schumacher's director of design. 'The grounds are cleaner and whiter, [which] immediately freshened the look.' Schumacher and Frank Lloyd Wright's updated collection is permanently available to the trade from this week.
INFORMATION
For more information, visit the Frank Lloyd Wright website (opens in new tab), and the Schumacher website (opens in new tab).