'Savanna: A Possible Landscape', by Amit Drori and Dover & Cederbaum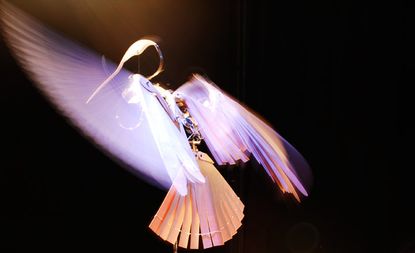 (Image credit: Mario Del Curto)
A cricket fashioned from a radio; a wooden tortoise mounted on wheels; and a heron crafted from servo motors, wood and remote control equipment. These were the strange creatures roaming the 'plains' at London's Barbican Centre (opens in new tab) last week in theatre director Amit Drori's staging of 'Savanna: A Possible Landscape'.

Brought to life by Israeli designer Noam Dover (opens in new tab) and Drori, their movements were remarkably realistic – the tortoise's head twitching curiously as it lumbered through the scrubland and the heron beating its wings with muscular strength.

The sculptures are the creatures of Drori's childhood imagination. Narrating the production himself, Drori's story begins with his mother's obsession with her piano, an instrument that proved almost impossible to tune but on which she lavished constant attention. Looking upon it with a mixture of resentment and fascination, the young Drori finally took a hammer to the piano after his mother's death, smashing it up to conjure a new world for himself, complete with animals made from its strings.

To play out his imaginary savanna on stage, Drori turned to his friends and long-time collaborators Noam Dover and Michal Cederbaum, who are partners in work and life. While Dover and Drori created the creatures – controlled by puppeteers in the production - Cederbaum devised a series of projections for the show, evoking Africa in the depths of the concrete Barbican.

The automated creations might appear somewhat crude at times - assembled from a concoction of instruments, gadgets and materials - but the hand-crafted mechanisms that drive them are extremely complex. The robots had to go through a rigorous training process, in which the Dover created banks of behaviour patterns, actions and expressions. On stage, this translates into almost human gestures.

'We're interested in the intersection between craft and technology', Cederbaum told us after the show. 'We like to call it "craft robotics".' In the Barbican Centre, this gave the creatures a sculptural, almost poetic feel. But the 'craft robotics' idea doesn't just take animal form for Dover & Cederbaum. The pair – who take multi-disciplinary design to the extreme, working across everything from furniture and interiors to graphics – are currently creating a series of tableware, in which the vessels move when you touch them or fill them with fruit.

Dover & Cederbaum's collaboration with Drori feels like it was produced with a design audience in mind. The viewer even gets to watch the stage being transformed into the savanna - a wooden tree being built piece by piece before their eyes - and the materials and technical elements that are normally hidden back stage are integral to the show. The mechanical beasts are now migrating to Taiwan for a performance later this year - but if you can't make it out East, you can catch a very different breed of Dover & Cederbaum's work at London gallery 19 Greek Street (opens in new tab) from 28 March. Here you'll spot a collection of limited edition furniture and objects crafted with an equally adventurous spirit.