Roy McMakin builds drama into the American dream home
Hybrid craftsman Roy McMakin's work blends art with furniture and captures the essence of a domestic environment. He opened the Domestic Furniture Company in Los Angeles in 1987 and after a commission to remodel screen writer Barbara Benedek's family home, he began designing TV sets, and furniture pieces for the Getty Museum and J Crew stores. Relocating to Seattle saw him shift his focus back to the home, a context where he composes characterful scenes combining found furniture with his own pieces. Wallpaper paid him a house call in October 2011 (W*127)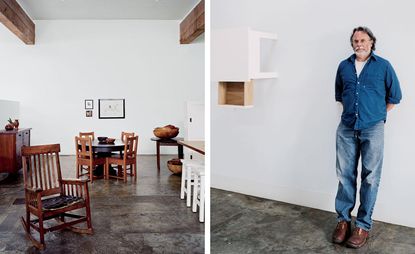 (Image credit: Jason Schmidt)
Roy McMakin is not easy to categorise. He's an artist, a craftsman, a builder, a designer, a collector, and an architect. Sometimes simultaneously. A McMakin chair might not be coveted as a trophy piece in quite the same way as a Hadid bench or a Newson chair, but that's only because one McMakin chair is never enough.

His pieces demand to be together in a group. They are in dialogue with each other just as the people who pull one of McMakin's chairs up to a table already have something to talk about: 'Did you notice how each slat in the back of this chair is a different size? What's up with these patches of wood in the table? Why are the knobs on that dresser so big? Why are they different sizes? Is that a refrigerator, a table or a bookshelf?'

McMakin challenges perceptions of what one expects from a piece of furniture. As an art student in the late 1970s and early 1980s, he used furniture and architecture as vehicles for conceptual explorations of identity, perception and domesticity.
This interest in furniture was not new. As a child, he 'curated' the furniture in his bedroom. When his parents offered him a new bedroom set, he asked for the money instead and, after much research, purchased a desk for $65. As it turns out, the young boy had a good eye: the drop-front desk he purchased was by Gustav Stickley. Stickley's furniture, especially his 'No 353' chair, exerted a strong influence on McMackin's own work.

In fact, Stickley's influence was only superseded when McMakin moved to San Diego for university. Here he discovered the work of the architect Irving Gill. As he tells it, this marked the beginning of a love affair that bordered on obsession. Gill's spare aesthetic, his reduction of form to its essential elements and the constant dialogue between form and function were what instantly appealed.

'I stalked Irving Gill,' McMakin says of his obsessive search for a Gill building for himself. He lived in Gill's 1906 Mary Cossitt House for three years in San Diego and when he moved to Los Angeles in 1987 he purchased and restored the architect's 1917 Morgan House.
Having focused his artistic practice on furniture and an examination of domestic environments, it was not long before McMakin began to consider making 'real' furniture as opposed to furniture-like sculpture. In 1987, he opened Domestic Furniture Company in Los Angeles. McMakin's initial collection include pieces that remain standard in his repertoire today: variations on a straight-backed side chair, a dresser and a simple table he transformed from dining table to coffee table to a set of end tables by playing with its basic proportions. These early pieces were made of clear maple plywood and maple lumber, which emphasised their often surprising details and the high level of craftsmanship for which McMakin is known.

The artist's characteristic whimsy was already at work in the early pieces for the Domestic Furniture Company: the sides of rigorously rectilinear chests of drawers are cut to reveal the underlying structure; the openings in a slat-back chair are filled with glass; a couch is fitted with short chunky feet, often painted white, so that it appears to be wearing socks. The drawer of an otherwise elegant side table has a softball-sized knob, while a dresser front features drawer pulls that range from diminutive at the top to outsized at the bottom.

McMakin's creations swiftly attracted a devoted clientele, most of them creative types in the art world and the entertainment industry. With orders coming in, the Domestic Furniture Company expanded its offerings to include upholstered pieces, as well as pieces made from more exotic hardwoods such as mahogany, fumed oak and black acacia. The photographer Lisa Eisner, a long-time fan and close friend, introduced the artist to the screenwriter Barbara Benedek in the late 1980s; a commission to remodel the Benedek family home followed, marking one of McMakin's first forays into interiors.
High-profile commissions followed quickly once the word was out that McMakin was tackling more than just chairs and tables. He designed the set for Jay Leno's Tonight Show, created some pieces for the J Paul Getty Museum in Los Angeles, and was commissioned by the mass-market American retailer J Crew to deign the furniture and image for its stores.

Since 1990, McMakin had been sourcing wood locally and had stopped viewing it as a ready-made, off-the-shelf material. He became determined to make his furniture where the materials came from. He wanted to stay on the West Coast and was impressed by the Washington State's sustainable wood industry.

In 1993, McMakin moved to Seattle, although Domestic Furniture Company stayed open in its original location for another year. He wanted to know where all the wood he used came from and how the trees were cut. By setting up his own furniture production shop he could control the whole process and preserve the traditional woodworking techniques with the help of a group of local craftsmen.
McMakin, a warm, easy-going bear of a man, seems much more at home in casual, down-to-earth Seattle than in fast-paced, image-conscious Los Angeles. Happily ensconced in a former grocery store that now serves as both his professional office – now called Domestic Furniture and Architecture – and the home he shares with his partner, biologist Mike Jacobs, McMakin seems to have reconciled the two sides of his practice. A large studio where he draws and paints bridges home and office, making the transition from art to design and back a seamless everyday occurrence. McMakin's Seattle set-up has allowed him to take on much larger and more complex work with the assistance of Ian Butcher, who oversees all of Domestic's architecture projects.

A commission to overhaul the interior of a plantation-style house for a prominent Texas rancher reveals McMakin's keen eye for colour, composition and craft. In the home's living room, two comfortable couches face each other across one of the artist's low, chunky coffee tables. Not surprisingly, the coffee table incorporates several of McMakin's signature tweaks: the wood tabletop is inset with a curvy white shape that recalls that of historic tables, while one end is white and is attached to the natural wood table like a mismatched Siamese twin. Dark wood side chairs that play on Empire-style furniture cluster around a circular white breakfast table with an oversized top. Cabinets and armoires with scrolled tops acknowledge the home's historic character, but their stylised silhouettes are completely contemporary.

Painted in one of McMakin's signature greens, not quite pistachio, not quite mint, the master bedroom features an imposing four-poster bed that is pulled away from the walls so that it acts as both sculpture and functional furniture. At its foot, a wooden chest with an outsized, faux keyhole inset is a whimsical foil for the more serious bed. Touches of red on a door and a sideboard complement the minimalist white built-ins and the chest and drawers in rich, grainy natural wood.
Here, as in McMakin's own homes and in his other domestic projects, the artist's well-tuned eye for composition is unmistakable. In McMakin's Seattle home and his cabin on nearby Vashon Island, his knack for composing interiors and their accoutrements is given free reign. McMakin is an avid scavenger and in both homes furniture of his own design is combined with flea market finds that range from stools that he will study for ideas for future pieces to ceramic pieces and paintings, most often depicting plants and landscapes.

In McMakin's Seattle quarters, all the furniture is pulled away from the walls, serving to both delineate different functional spaces and underscore the sculptural quality of his work. The living room area is lined with bookshelves full of works on architecture and design. When I visited, McMakin pulled down Box Furniture, a 1909 book by Louise Brigham which illustrates how to make everything in your life by starting with a box shape. Everywhere, wooden bowls and ceramic pieces made by artist friends or McMakin himself are artfully displayed alongside arrangements of quirky flea market treasures.

In McMakin's studio, a rectangular table of maple wood serves both as a conference table and as another place to present carefully curated groups of objects. It's worth noting that many of his tables, dressers, beds and chests of drawers incorporate stages or platforms for objects so that each owner can personalise a piece. Currently on display is a group of thrift shop mugs that the artist was using to make photographs and drawings.
The light studio space is perhaps the best example of McMakin's love of composition, possibly because it is the space where public and private meet when clients or art dealers – McMakin shows mainly through New York gallery Matthew Marks – come for meetings with the artist. The massive Dutch doors that separate the living room from the work space are most often left open, allowing a glimpse into the artist's private quarters. Three cross-stitched antique seat covers hang on an end wall over an assortment of chairs and stools. It's one of the artist's trademarks to group stools and ottomans to form a low table-like arrangement.

When I was there, he returned from an errand with a piece of furniture picked up for five dollars at a local yard sale and proudly pointed out it was labelled 'stool' when in fact it was really a vintage chair with its back sawed off. The 'stool' was like a ready-made symbol of McMakin's own love of playing with form and function to create pieces that confound our expectations. In the portrait of the artist featured here, McMakin stands next to his sculpture of a small table mounted on the wall, its drawer open, subverting its function as a place to store things.

On Vashon Island, where McMakin and Jacobs have a small 1930s house which McMakin 'did his things to' in 2007 – he refers to it as a cabin – the artist allows himself greater freedom of expression. It is the most private of his spaces, reserved for cooking, contemplation, gardening, and the drinks and dinners the partners often share with close friends.
In summer 2008, Sebastian Wrong of Established & Sons in London travelled to Seattle to meet McMakin with the intention of wooing him to work with the company. 'He seemed like the ideal artist for us to work with,' remembers Wrong. 'His work crosses and challenges the boundaries between art, design and craft in a subtle, understated manner.' McMakin liked Wrong and invited him to Vashon. One thing led to another, culminating with the artist's first overseas exhibition at Established's showroom last winter.

McMakin, the first American artist tapped by Established & Sons, designed a limited-edition collection of furniture for the UK company. It includes a slat-back chair with an anthropomorphic seat, a sunny yellow fan back chair with different sized spindles and an elm side table with his characteristic wood patches. The impetus behind this collection, McMakin explains, was his interest 'in memory and how subtle manipulations can trigger both familiarity and dissonance. I think it is relevant that I don't think of myself as a designer, even though design is involved in the process of what I make. I am more interested in meaning and how it is contained within objects. I like to complicate things.'

Alasdhair Wilis, founding partner with Wrong of Established & Sons, explains that what attracted him to McMakin's work 'is the sheer ambiguity of what you are looking at. It unsettles you. At first, you think you are looking at a fairly conventional piece of furniture but as the work draws you in, you soon realise there is far more going on; it's at that point that the work, in my opinion, sets over from design into art.'
When asked to sum up his work, McMakin answered in typical self-effacing fashion: 'I take vernacular shit and make it minimal and also country cute.' He also pointed out two ceramic dishes, displayed on the entry hall table in the Vashon cabin, to illustrate. Both flea market finds, the dishes are shaped like yellow crookneck squash and nest together like yin and yang. 'I like the fact that the dishes couldn't just be sculptural objects but had to be made functional. But, in the end, they're not really functional,' he explained.

McMakin always has projects percolating, from a really great task lamp, to a skyscraper design which he is quick to point out is really just an urban-scaled sculptural object. A meaningful skyscraper could be the perfect McMakin place.

A version of this story originally featured in the October 2011 issue of Wallpaper* (W*127)
INFORMATION
For more information, visit the Established and Sons website, the Domestic Furniture and Architecture website and the Matthew Marks Gallery website